Cardboard File Box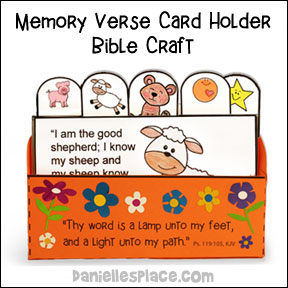 What you will need:
Colored Card Stock
Glue
Decorative Items such as Stickers, Gems, and Sequins
Scissors
Magnets (Optional)
How to make:
1. Before class print out the card holder pattern onto colored card stock.
2. Cut out the patterns, score the fold lines with a sharp object and then fold the sides. Glue them closed.
3. In class have your children stick stickers or glue decorative items onto the box.
4. You may also want to glue magnets to the back of the box so that the boxes can be stored on a refrigerator.
All the Bible verse cards on The Resource Room come with small tabs with pictures that can be glued along the top edges of the cards as shown in the picture above. Children can use the pictures on the tabs to see if they remember the Bible verse that goes along with that picture, then they can pull out the whole card to see if the remembered correctly.
One of my favorite things on your site is the Bible Scripture Cards. The kids love the cards. As the kids come in for children's church, they color their Bible cards. I had trouble getting enough boxes of the macaroni boxes so I bought brightly colored photo books for 59 cents at Big Lots and at those little Chinese dollar outlets. Each week the kids place their cards into the photo album. They like flipping through their Bible Scripture Books. They can take these home when the book is full. I also like to shrink down the stories to card size and if I can find picture cards I like to print them off as well. Suzanne