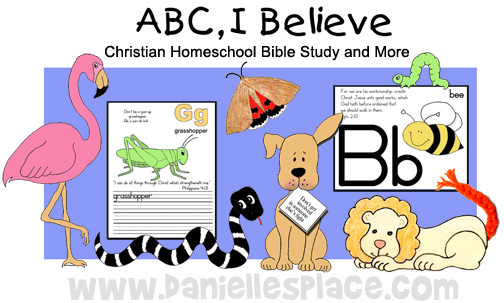 Included in the Yearly Subscription for $23.95!
Start your homeschool day right with this fun and engaging Bible study curriculum.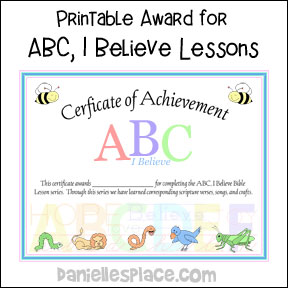 1. Each lesson in this curriculum is a thematic unit based on a letter of the alphabet, a different animal starting with each letter, and a basic Bible truth.
2. Each thematic unit in this curriculum is used for one week reinforcing the main Bible truth and integrating it into every study area through games and activities. Areas include: math, reading, writing, science, physical fitness, and more.
3. The Bible lessons and activities in this curriculum are great for children who have special needs, such as children with ADD, ADHD, or other learning disabilities because all areas of study are reinforced using active learning and lots of sensory stimulation. Children learn while having fun!
4. The lessons and activities in this curriculum were designed for children preschool through third grade. You can use the same lesson for all these levels. The games and activities are made so you can adapt them to your child's needs and academic level.
5. Certificate of Achievement Award Printable - Give these to your students when they have completed all the lessons.
Are you and your children tired of the same old routine? Are you tired of paperwork, paperwork, and more paperwork? Put a little excitement into your school day with these fun and creative ideas. You will find included in each Bible lesson: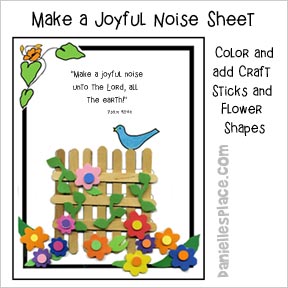 1. Bible Memorization - Children memorize one Bible verse each week. A printable Bible verse card is included that can be stored in a file box. Having your child memorize Bible verses is one of the greatest things you will ever do for your child. The Bible tells us to hide his words in our hearts so we don't sin against him. When you start each day with Bible reading and memorization, your child learns that loving and obeying God is the most important thing he will ever learn. Verse cards are available in King James Version (KJV) and the New International Version (NIV)
2. Vocabulary Words - Older children make their own Bible dictionary adding new words each week.
3. Getting Connected Bible Lesson - The lesson is the foundation for the entire week. Children learn a key Bible concept in each lesson and it is reinforced through games and activities throughout the week.
4. Prayer - A sample prayer is included in each lesson.
5. Staying Connected - The Bible lesson is reinforced each day with activities to do during the week.
6. Penmanship - Children practice writing or printing the letter, name of the animal, or the entire Bible verse for a whole week. Sheets are available in both Zaner-Bloser and D'Nealian Fonts.
7. Arts and Crafts - Fun and challenging art activities relating to each lesson.The things your child creates are often used in other areas of study or to reinforce the lesson. You don't have to buy expensive supplies. Most of the items for these arts and crafts are things that you use every day and many of them use recyclable items.
8. God's Wonderful Creation - Children learn more about the animals in each thematic unit. They perform experiments, ask questions, and search for answers. Use the ideas in this section to spark your child's interests. If your child has a question about what he is learning, don't say, "I don't know." Say, "Let's see if we can find out." Try searching the Internet to see if you can find the answer. Then go to the library and check out books relating to your child's interest. You will find that you are learning as much or more than your child. If your child has questions about or shows interest in a topic you aren't studying, don't worry about it. Just go with what interests him. He will learn much more when he is learning about things he is interested in. And don't worry about your child not learning everything he needs to know. You are setting the foundation for learning. It's not about learning a bunch of facts and figures. You are showing him that learning is fun and interesting. That's the important thing.

9. Fun with Numbers - Games and activities in which children review all levels of math skills. These activities are designed to go along with your child's math curriculum. They are active, get-up-and-move-around, hands-on review games designed for active children (and who doesn't have an active child). You design the game to match your child's level. Note: All children are different. Try to pick a curriculum that matches your child's abilities. Some children will need more manipulatives to grasp mathematical concepts, some will need lots of review, and others need a more challenging math curriculum. There are also many good computer math games for children that are a great change of pace from workbooks. You can use them as incentives for work well done or make a special day each week like "Fun Friday" in which your child can use the games instead of his workbook.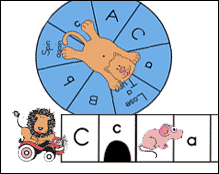 10. Fun with Letters and Words - Games and activities to review letters, phonics, and vocabulary. These games and activities are designed to go along with your child's reading curriculum. All children are different. Pick a reading curriculum that works well with your child's abilities. The games and activities in this section will help your child review his lessons in a fun and active way. He won't even know he is learning. Also included are printable Itty Bitty Books with a Christian theme for beginning readers.
11. Just for Fun - Fun things to do relating to the lesson: mazes, cooking, play activities, search and find, etc.
12. Praising God - Songs and rhymes relating to the lesson. Learning should be fun! Many children learn best through songs; so don't forget to include these fun songs.
13. Printable Animal Stickers - Twently-six animal pictures you can use to help your children reveiw the alphabet, biblical concepts from these lessons, and much more. Print them onto sticker paper and use them as stickers or magnets.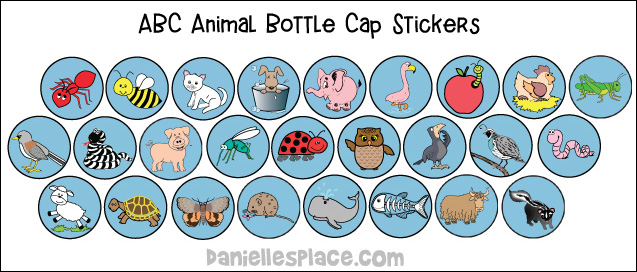 14. Printable Animal Posters - Twenty-six color animal posters that you can display in your room.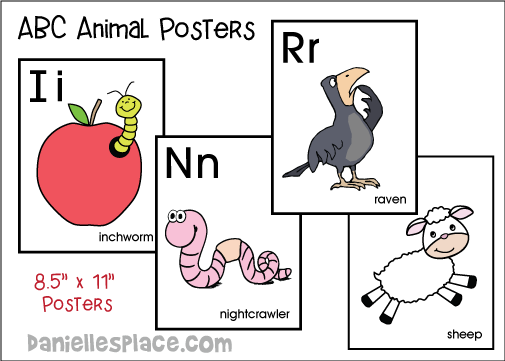 Click here for a complete list of the lessons and teaching concepts.
Free Sample Bible Lessons for Homeschool!
Note: You do not receive printed material. All the lessons and patterns are available online. You decide which lessons and patterns you would like to use and print out.
These lessons are available to members of
Danielle's Place included in the yearly subscription for $23.95
Other Home School Resources
Teaching Home School Children With Special Needs
Parents with special needs children often find that public school systems just can't meet their children's needs. The only way their children will have the best education available is to home school them. If your child has dificulty attending a regular school because of special challenges, you may find this article, "Teaching Home School Children with Special Needs" useful.
Comments About the Lessons:
Greetings in the name of the Lord, Your ABC I believe curriculum is completely wonderful!!! I love it. You have such great ideas!!! Thank you for making it so affordable to teach our children about the Lord and with so many fun ideas!!!! Thank you so much. Laura (6/13/2008)
Just finishing the ABC I Believe series next week. I have taught children's Bible classes for years and this is by far the best series I've ever found.I takes a new twist on Bible characters and verses. Thank you for your hard work and dedication to providing education material for children.Karen 8/15/15