Sin and Forgiveness Bible Crafts
How to Make Bible Crafts and Bible Games on Sin and Forgiveness for Children's Ministry and Sunday School
Sin and Forgiveness Bible Activities
Scripture reference: 1 John 1:9, Psalms 51, Romans 1:21 (their foolish hearts where darkened) Concepts: If we confess our sins and ask for forgiveness, God will forgive us and cleanse us from sin. All have sinned and need forgiveness. We are in darkness when we Sin.
Make a Wipe-off Heart
Cut out hearts from poster board. On the shinny side write a memory verse pertaining to forgiveness with a permanent marker. Melt a black crayons (Crayola work the best) in a 200 to 250 degree oven. With an old paint brush, paint the melted crayon over the heart and let dry. During class explain how sin makes us blemished and impure, but when we ask for forgiveness, God cleanses us or makes us pure again.
Sin Object Lesson
Jerriath Lejeune in Oakdale LA E-mailed me with this great object lesson. (Some of the words have been deleted, changed and rearranged)
I talked about how sin makes your heart black. I had a glass of water and every time the students named a lie or sin, such as stealing or not listening to their parents, I would drop dark blue food coloring in the water. I said this is what your heart looks like when you sin. It gets black. I then told them, if they would repent of their sins, Jesus would forgive them and that God can clean their heart. I took bleach and poured it in the black water and it cleaned it all up and made it white. (Make sure you put a lot of bleach into make sure it comes clean.)
Next I told them how God will fill you with the Holy Ghost. I took a glass almost full of water and put vinegar in it and dropped a tablespoon of baking soda in it. It boiled out of the glass. I explained that when God fills you with the Holy Ghost you overflow with love, joy, peace. Then I dropped some more soda into the glass and it bubbled over again. I told them every time they tell somebody about Jesus their heart will fill up and bubble over with joy. God Bless you all. Thanks, Jerriath, for sharing with us.
Sin Object Lesson About Prayer for Preschool Children
You will need bubble blowing soap, a super bubble blower and a small one.
Talk to the children that no sin is too small or too large to be forgiven by God.
Take the giant bubble blower and begin making big bubbles. As the children pop the bubbles, discuss what some big sins might be: breaking the law, hurting someone, killing someone, stealing, etc. Let the children think of sins they think are big while they pop the bubbles. Make sure all the children have a chance to pop a bubble. (It is important to keep control and let them know there can be no shoving or running.)
Then take out the little bubble blower and blow bubbles for the children to pop. Discuss things they might think are small sins. For instance, cheating, taking an extra cookie when you were only supposed to take one, not doing what you were told the first time, forgetting to pray, yelling at someone, calling someone a bad name.
Next ask children if the big bubbles popped any different than the little one. Explain to them that no sin is too big or too small for God to forgive. God forgives big sins just like he forgives little ones. When we ask for forgiveness, it is like the bubbles. They are gone never to be found again.
If money permits give each child a bottle of bubble soap to take home. 6 usually cost around $1.29 Sent in by Narita Roady
I used your sin/forgiveness lesson for my children ages 2-4. I had to make a few changes because of the age. What I did was made big hearts which read:

"When I invite Jesus into my heart he forgives me and gives me a fresh start. His blood covers over all my sins and wrong. His love and forgiveness helps me be strong. And in my heart, he put a new song."

It also had a happy face in the very middle of the heart. I laminated all of them and gave one to each child.

At the end of the lesson, as they named off a sin (like hitting, not obeying mom and dad, not sharing, calling names), I would put a black mark on the heart with a dry erase marker for every sin. When they covered their heart in sin (or black marks) each child would have to ask God to forgive their sins and then they got to take a paper towel or tissue and wipe off the sin just like God would clean their heart. They loved it. But be careful my son and another little girl kept calling each other names so they could fill their heart with sin and wipe it off. You may want to add , If they slip and call someone a bad name accidentally. One of the mothers told me her 3 year old son asked her how he could let Jesus come into his heart and forgive his sins after class and she prayed the sinners prayer with him. It really touched my heart. Ramona
©2004, Digital by Design, Inc. - See Copyright Information
The Consequences of Sin Object Lesson Using Craft Sticks and the Exploding Cobra Weave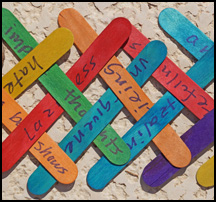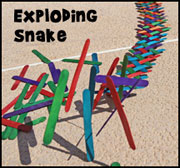 What you will need:
Jumbo Craft Sticks and Markers
How to:
First check out this Youtube video on how to make a mini cobra weave using craft sticks. Practice putting it together until you have mastered it. In class explain to your children that all sin has consequences. It doesn't matter if it is a little white lie or murder. All sin keeps us from God. Have your children think of sins that we may commit daily or may make excuses for, such as watching television shows that aren't pleasing to God, swearing, lying, cheating, etc., and then have them write the sins on the craft sticks. Weave all the craft sticks together to make a snake. Tell them that sin can be disatrous to our lives. When we commit one sin it makes it easier to comment even more until pretty soon they take over our lives. Remove one of the stick so that the "Snake" explodes to emphasize your point.