Bible Crafts For Sunday School
Tabernacle - Temple
How to Make Bible Crafts Relating to Tabernacle or Temple
Ark of the Covenant Craft and Activity Sheet
What you will need:
Jumbo Craft Sticks
Mini Craft Sticks
Regular-sized Craft Sticks
Round 1-inch Wood Pieces for the head
Gold Trim from Fabric Store
Gold Spray Paint or Acrylic Paint
How to make:
1. A Pattern for this craft is available to members of The Resource Room.
2. In class have your children glue the craft sticks on the paper. Then glue on some gold trim to finish.
If you have preschool children or don't have the mini craft sticks, you can use this easier pattern. This activity sheet only uses the jumbo and regular-sized craft sticks.
A Pattern for this craft is available to members of The Resource Room.
©2000, Digital by Design, Inc. - See Copyright Information
I have been using your site for the last few years and I think it is great. I sometimes have trouble putting my lessons together and this site has been a great help. Thank you for putting it up. I've been teaching for 39 years and I still need help. Also I love that I can get the KJV lessons which are rare nowadays. Again thank you. Penny, Liberty Baptist church Eadton MA
Ark of the Covenant Craft for Sunday School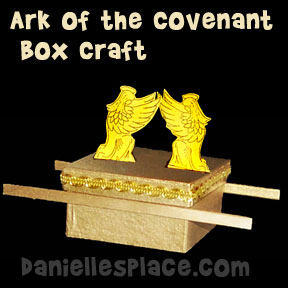 What you will need:
Small boxes such as jewelry boxes
Gold paint
Gold trim from Fabric Store
Gold paper
Skinny craft sticks or straws
Small twigs
Clay
How to make:
1. Paint a small box, inside and out, with gold paint. Paint craft sticks gold and then glue them to the box to make the poles.
2. Print out the angel patterns or draw angels onto gold paper, cut them out, and then glue them onto the top of the "ark". A Pattern for this craft is available to members of The Resource Room.
3. Glue gold trim around the top of the box.
4. Make the Ten Commandment tablets out of white clay, and the bowl out of gold Fimo clay, and place them in the box. Place a small stick in the box to represent Aaron's rod.
©2000, Digital by Design, Inc. - See Copyright Information
Make a Model of a Tabernacle
The following ideas and pictures were sent in by Connie Henry.
I recently had a need to come up with an idea to make a model tabernacle for an illustration in my first, second, and third grade Bible class. After several nights of searching on the net for a suitable picture and gathering craft ideas I have now completed this project. I used as many items as possible around the house to help keep down the cost. The entire project cost about $40.00. I have attached pictures for you to see the finished product. (You can find a description of the tabernacle in Exodus 25 -27.)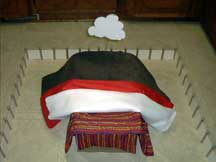 I began with a box that had contained reams of copy paper. I covered the outside of the box with wood grain contact paper and cut the end out of the box. I cut a couple of side groves for square dowel rods to fit in and made two sets of divider curtains between the Holy Place and the Holy of Holies.
I purchased material for the four top coverings. The inner layer matches the first curtain in red, purple, and blue linen. The second top is white goats skin, (fleece material) the third one is red ram's skin (red thick material) the fourth one is badger skin (I found brown fleece that worked just fine). These were sewn like a pillowcase for thickness.
The furniture can be doll house furniture or handmade, as mine were, by one of our elders.

The cherubs on the ark are made from poster board and sprayed gold as is every thing inside of the tabernacle.
The lamp stand was made with gold pipe cleaners with red fingernail polish for the flames.
I found a coloring picture of a priest in his garments and colored them as described in scripture and glued him to 1/2 a toilet paper roll so he will stand.
The shewbread was crackers that I broke into small pieces and placed in a sprayed gold milk jug lid that was then placed on the shewbread table.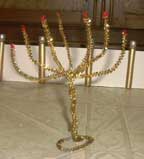 ©2000, Digital by Design, Inc. - See Copyright Information
Tabernacle or Temple Crafts on Other Pages