Maine - The Pine Tree State
How to Make Crafts and Learning Activities Relating to the State of Maine
Crafts
Make Your own Moose Headband
Trace your child's hand on tan construction paper and cut them out. Cut ears from brown construction paper. Make a head band by cutting a piece of brown construction paper in half long ways. Fold the halves long ways and staple them together to make a long strip of paper. Staple in a circle to fit your child's head.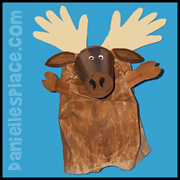 Make a Moose Puppet
Go to the Puppets Page for directions.
Toothpick Picture
Maine is one of the biggest producers of toothpicks. Buy a box of toothpicks and make a design or picture using toothpicks by gluing them onto a piece of paper.
Make a Lighthouse
You will find directions on how to make a lighthouse on the Paper Plates Craft Page of the Members only Section.
Make a Maine Poster
Study Maine and then collect objects and pictures that remind you of Maine such as: sea shells, toothpicks, pototo chips, pieces of wood, pine cones and needles, fake gems, cardboard, newspaper and gravel. Glue them to your poster. Make a crab from a sea shell macaroni noodle.
Go to the Under the Sea Crafts Page for directions. Cut an apple in half and dip it in red paint. Make an apple print on a piece of white paper, paint in the black seeds, cut it out and glue on the poster. Make an egg by painting half a foam ball yellow. Cut the egg white shape from paper. Glue the half foam ball to the egg white. Glue everything to the poster. Make blueberries from blue Sculpty clay. You may also want to include a map of Maine, a picture of their state flag, moose prints, or a picture of a lighthouse.
©2000, Digital by Design, Inc. - See Copyright Information
"If You Give a Moose A Muffin"
1. What is a Consequence? Look the word up in a dictionary. Ask your child if he notices that there is a word within this word -- sequence. Look up the word sequence. Sequence means order. Consequence is what happens when you do something. If you do one thing, something else will happen. For example, if you read a little everyday, you will become a good reader.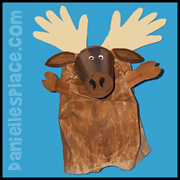 Talk about a certain action and its consequences. For example, what would happen if you forgot to put the milk in the refrigerator. Help you child come up with a logical sequence. The milk would spoil. You will have to throw it away. Mom would have to go out and buy some more milk.
2. Have your child make up his own story using the same technique used in this story. Point out the fact that the ending of this story isn't really an ending because the ending starts the whole cycle of events again.
3. Diagram the Story by drawing pictures in a big circle showing how one thing leads to another.
4. Have your child make a Moose Puppet and act out the story as you read it.
How to Print or Copy these instructions.
"I Met a Moose in Maine One Day"
In this fast-paced rhyming book a boy meets a moose and soon they become friends. They travel throughout Maine exploring the Penobscot River on a log raft, flying in a seaplane, and visiting other noteable places. Children will enjoy the cartoon illustrations and upclose and personal style of the artist.
"Birdie's Lighthouse" by Deborah Hopkinson (Kindergarten and Older)
1. Show your child the book and ask him what is different about this book than most books. It is taller than most books. Ask them why they think it was made this way. Show them the picture of the lighthouse on the back of the book.
2. Make a Shape Book using the shape as the main theme for your story. For example. If your child makes a round book, he can write a story about something round or he could make a long book and write a story about a train.
3. Talk About Responsibility - Look the word up in the dictionary. Ask your child what his responsibilities are. Make a list. Ask him what his mom's and dad's or sibling's responsibilities are. Read the story and talk about what Birdie's responsibilities were. Talk about consequences and what would happen if we were responsible.
4. Birdie's Lighthouse is written as diary entries. Have your child write a story using this technique.
5. Ask your child how he would feel if he had to live on an island.
"Time of Wonder" by Robert McCloskey
Time of Wonder
"Time of Wonder" by Robert McCloskey conveys his love for the coast of Maine and all it's islands beautifully in this book. It starts off describing how you can watch a storm rolling in off the ocean as it grows nearer and nearer darkening each island until it reaches you. He describes how the weather and mood of the coast can change from hour to hour from being sunny, to foggy, to very windy and rainy. It is obvious that Robert treasured his summer on the coast of Maine as a boy and this book would make any child want to spend his summers there too. He talks about the rocky beaches, starry skies, seals, porpoises, fishing, sailing, and much, much more. This is a great book to introduce your child to Maine's coast and islands.
"Ferryboat Ride!" by Anne Rockwell
"Ferryboat Ride" -
In this story a little girl describes her trip on a ferry to one of the islands off the coast of Maine. She describes everything she sees and hears and smells along the way: the people on the ferry, a lighthouse, the fog, the fishing boats, the sea, the fish, seagulls, and much more. Through this book your child will experience what it is really like to take a ferry ride and what it is like off the coast of Maine.
"One Morning in Maine" by Robert McCloskey
A little girl named Sal loses her tooth while digging for clams with her dad on the coast of Maine. Although she doesn't find her tooth, she does find a feather which she decides will be a good substitute to make a wish on. It turns out she was right. Through this book children will experience some of the simple pleasures of living on the coast of Maine.
"Keep the Lights Burning"
Abbie by Peter and Connie Roop - This is a true story about a little girl who had to take on the huge responsibility of keeping the light burning in the lighthouse while her father was away and her mother was sick.
1. Look up Matinicus Rock on a map of Maine.
2. Talk about what it would have been like to be Abbie with such a big responsibility. Talk about what responsibilities your children have.
"Lighthouse Dog to the Rescue" by Angeli Perrow
This is a great story for animal lovers. It is about a dog who saved a boat lost in a storm when the lights in the lighthouse and the bell would not work. Your child may enjoy acting out this story after you have read it to him.
©2000, Digital by Design, Inc. - See Copyright Information
Maps and Facts
1. Enchanted Learning's Zoom School has a map and important facts about Maine worksheet.
2. www.50state.com has a blank map of Maine.
Blueberries
Blueberries grow great in the hilly, rocky terrain of much of Maine.
1. Read about blueberries and how they are harvested.
2. Look up blueberry recipes and make something using blueberries.
State Bird
Chickadee
1. 50states.com has information on the Chickadee
StateFlower
1. Color picture of the state flower the White Pine Cone and Tassel
State Song
Lobster
1. Look up lobster recipes and make something using lobster.
State Flag
1. Go to 50States.com for an exclamation of what the pictures on the flag represent.
2. About.com Homeschooling Page for a picture of the state emblem and an exclamation of what it stands for.
Science
1. Study Moose Tracks and Compare Them to Other Animals
Print out several type of tracks that look similar to moose tracks and some moose tracks. Loosely cut them out and make a trail of tracks. Place them so that they weave in and out of each other but still have a distinct trail. See if your child can follow just the moose's tracks.
2. Learn about Moose
How to Print or Copy these instructions.
Geography
ProTeacher web site has a great relief map of Maine.
Web Sites about Maine
The State of Maine's Web Site has a good list of children's books that have stories that take place in Maine.