Crafts and Activities for Children
Creative, Educational and Fun Crafts for Children of all Ages

Educational crafts with how-to craft videos, DIY kids' crafts, games and STEM and STEAM activities designed to make teaching and learning fun. Bible-based crafts, and great resources for Sunday school teachers, children's ministry, preschool teachers, library programs, home school teachers, and special occasions. Quick and easy Bible lessons for combined ages.
DIY, Cheap and Easy Crafts for Your Children and Students!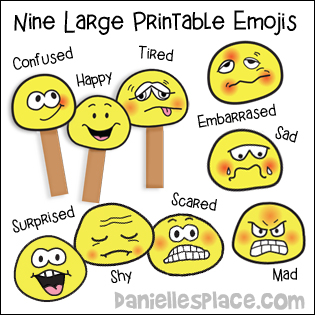 Emoji Printable
Use these creative writing activities to encourage children to talk about their emotions, to be more aware of how they are feeling and to teach them how to express their feelings more effectively in their writing and speech.
Printable patterns are available to members and as an instant download on the Emotions and Feelings Craft Page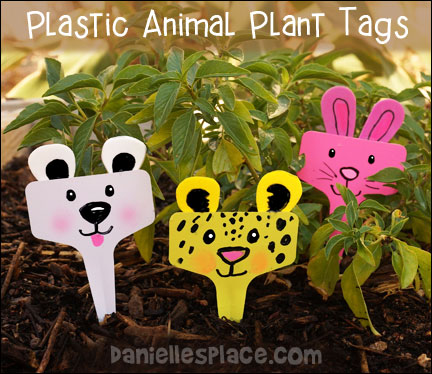 Plastic Animal Plant Tags Craft for Kids
Children use permanent markers and craft foam to make these adorable plant tags to decorate their gardens.
If you are starting a new garden write the names of the plants on the back of the plant tags.
Directions are available on the Garden Crafts Page 2.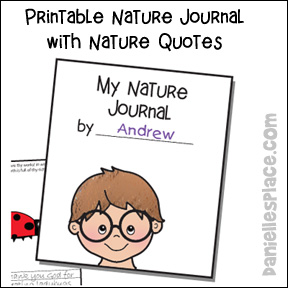 My Nature Journal Printable
After reading "The Looking Book" about children who learn how amazing nature can be if you take the time to really look at it, have your children go outside and observe nature, and then draw pictures and write about their observations in their "Nature Journals".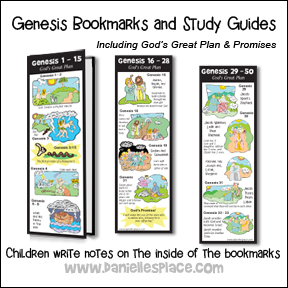 Genesis Bookmarks and Study Guides
Use these three bookmarks, which include study notes, in your study of Genesis. They include the most important events and concepts in the book of Genesis. Children can write notes on the inside. The bookmarks emphasis God's great plan to redeem his people from the very beginning of creation.
Go to Genesis Bible Crafts Page for Printable Patterns.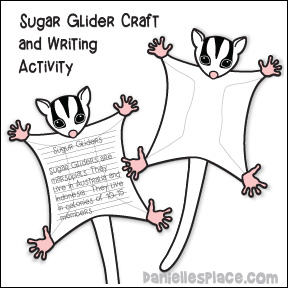 Sugar Glider Craft and Writing Activity
This craft is a great science writing activity for young children.
Children learn about sugar gliders and then write facts about them on their sugar gliders to display in class. Hang the sugar gliders from the ceiling to make them look like they are gliding around the room.
Go to the Australia Crafts Page for patterns.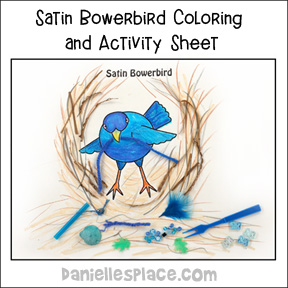 Bowerbird Coloring and Activity Sheet
After learning about bowerbirds children color the picture, build a bower using cardboard sticks, and search for objects a bowerbird might use to attract a female bird.
Go to Bird Crafts Page 2 for printable patterns and more STEAM activities for bowerbirds.
New Bible Crafts for Your Children's Ministry and Sunday School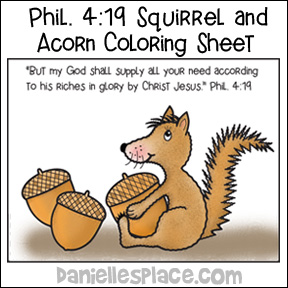 Phil 4:19 - Bible Verse Squirrel and Acron Coloring Sheet
For a printable pattern to this coloring sheet go to the Bible Verse Coloring Sheet.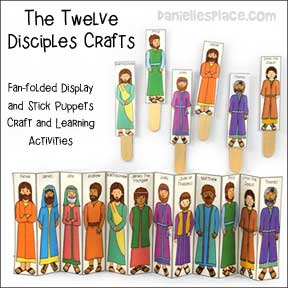 Jesus' Disciples Stick Puppets and Fan-folded Display
Use these color or black and white patterns to make disciple stick puppets or a fan-folded display to help your children remember the names of Jesus' disciples.
Go to the Disciples Crafts Page for directions.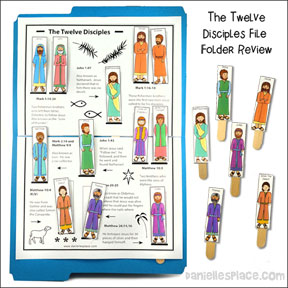 The Twelve Disciples File Folder Review
Children discover facts about each of Jesus' disciples and place the appropriate stick puppet in the slot on the display.
Go to the Disciples Bible Crafts Page for directions and more information about this craft.