Venus Flytrap Crafts and
Learning Activities
Through these activities children will learn the unique characteristics of the Venus Flytrap and other carnivorous plants.
Venus Flytrap Paper Plate Puppet
This puppet can be used to present a report about Venus Flytraps, or as an educational game. Using the real flytrap as a model Children arrange the flytrap's "teeth" so that they alternate and form a cell when the leaf mouth is closed so that the pompom fly cannot escape.
Paper Plate Venus Flytrap Craft with Writing Paper or Mini Circular Book
Children make a paper plate Venus Flytrap and then write about flytraps on a printable writing sheet or the mini circle book.
Venus Flytrap Bug Identification Learning Activity
Children learn about how flytraps catch their prey and then see how many different insects, spiders, and other creatures they can identify. They can also classify the 25 bugs.


Puppets are great educational tools. Not only are they fun to make, but they are also fun to use.
Have your children use their puppets to act out stories they have read. Use them to review math facts and spelling words, or to encourage your children to read. See our Educational Crafts Page.
Have your children write skits and use the puppets to perform puppet skits.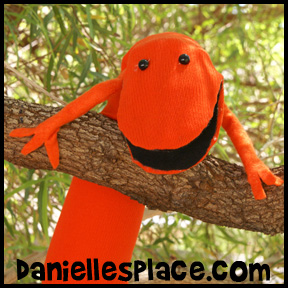 Children can design their own puppets using the examples available on the Puppet Crafts Page. Making things helps them develop creativity, self-esteem, patience and many other skills.
You will find a wide variety of puppet crafts on this site including: Paper Bag Puppets, Sock Puppets, Marionette Puppets, Cup Puppets, Stick Puppets, and Spoon Puppets.
Fun Easter Crafts and Learning Activities for all ages including:
Printable Games, Learning Activities, Easter Bunny Plant Stake, Bunny Cup Craft, Easter Bunny Paper Plate Crafts, Easter Basket Made from Recycled Milk Jug, Easter Bulletin Board Displays, Dancing Bunny Marionette Puppet Craft, Colorful Egg Printables, and much, much, more!
Printable "I'm a Monster Reader!" Bookmark
Monster Milk Jug Caddy - Children feed this little monster new words they have learned while reading.