God Made Me Lesson 4
My Wonderful Feet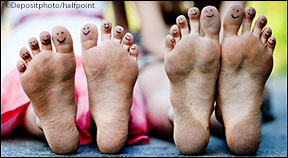 Children learn to appreciate and thank God for creating their beautiful feet; and learn how they can glorify God with their feet. (A complete lesson is available to members only on The Resource Room.)
Work on a Color Sheet

The patterns for these lessons come in both the King James Version and NIV. The Bible verse on this sheet is from Romans 10:15, ". . . How beautiful are the feet of them that preach the gospel of peace, and bring glad tidings of good things!" The little boy in the pictures is holding a paper that says, "Jesus Loves You!"
Member's

Sing a Song
If You're Happy and You Know It
If you're happy and know it
Tap your toe,
If you're happy and you know it
Tap your toe,
If you're happy and you know it
and you really want to show it,
If you're happy and you know it
Tap your toe.
Continue singing using the following verses: Jump for joy, march in place, march in place, do all four.
©2007, Digital by Design, Inc. - See Copyright Information
Sing a Song to the Tune of This Old Man.
"Two Feet"
Here's one foot, here are two,
There's many things that they can do,
So skip and dance and praise the Lord,
That's what these two feet are for.

©2007, Digital by Design, Inc. - See Copyright Information
Sing a Song
Sing "Little Feet, Be Careful" then give each your children two paper plates and have them stand on them. As you sing the song have your children slide around in a circle with the paper plates under their feet.
All the other teachers were asking how I came up with the project, I told them of your site and I expect a lot of them will be looking into it! I am going to speak with our Sunday Bible School Superintendant about a church subscription, I feel it will benefit all!
The Resource Room has been a lifesaver for me. I've done numerous lessons with the children and they have loved them all! God Bless, BRM
Make a Foot Tracing Picture
Help your children trace their feet onto a piece of paper. Write the memory verse at the bottom of the paper. Have the children color their feet and then help them write what they like to do with their feet.
Color a Picture with Your Feet
Give each child a coloring page and some crayons. Tape the papers to the floor so that they don't move around. Show them how to place a crayon between their toes and color by moving their feet around. Comment while the children are coloring, "Aren't you glad we don't have to use our feet to color with all the time?" I'm glad God gave us hands to color with. Our feet may not be able to color very well, but they can do so many other things really well. Can you think of some things that God created our feet to do?
Member's

Home School Materials are also Included in this Lesson, Including Math Activity Sheet.
Fun with Digits

The word "digits" refers to the ten numbers 0 through 9. A digit can also be a human finger or toe. Children cut out and glue the "digits" to the foot pattern placing the "digits" in order from one to five.
Follow the link above for even more educational activities including: Art, fun with numbers, fun with letters and words, physical fitness, cooking, and just for fun ideas.
©2007, Digital by Design, Inc. - See Copyright Information
Hi! Just wanted to let you know how excited I am about your website. I am the nursery director for a small church, and already I've found tons of great ideas, printouts, etc. Thanks for being such a blessing! I'm telling several others who I think would be interested. God Bless! Alison