Ready-for-School
Activities for Children

Learning the ABCs, Recognizing Letters, Printable Learning Games and Activities for Preschool Children, ABC Teacher Resources, ABC Worksheets, and Homeschool Printables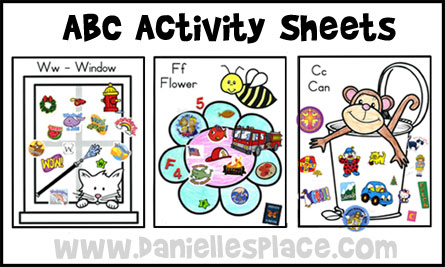 ABC Printable Activity Sheets (Worksheets) with Hands-on Learning Games and Activities
These ABC Printable Activity Sheets are available to members. Click on the link to access the worksheets and print them out.
1. Write Words that Start with the Same Letter
Have your children take turns thinking of words that start with the same letter that is on the sheet. Help them write the word on the sheet.
*Note - If you laminate the pictures you can use a dry erase marker and re-use the sheets over and over.
2. Matching Letter Pictures
Print out pictures from clip art, or cut out pictures from magazines, laminate them and then have your children match the beginning sounds of the names of the pictures to the letters on the sheets.
You can time your child to see how long it takes him and then have him do it again to see if he can beat his time.
You can also divide your children up into teams and give each team a certain amount of pictures. See which team can place all its pictures on the matching sheets first.
3. Really Big Alphabet Match Game
This is a great game for children who do not like to sit still.
Print out two of each sheet onto card stock (Heavy paper) and laminate them. Turn them upside down on the floor and play match game. Children take turns turning over two cards to see if they match. If they match the child gets to keep the cards, and take another turn. If they don't match, the child turns them back over and the next child gets to try and find a match.
4. Vocabulary Display
Print out all the sheets and hang them up on a bulletin board display. As your children learn new words, write the words on the matching sheet. Your children will have a growing record of how many words they have learned. This is also a great way to review the words.
5. Practice Writing the Letters ABC Game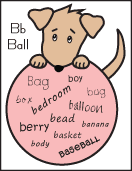 Print out the sheets and laminate them. Let your child practice writing the letters on the shapes. Use a dry erase marker and paper towel to erase the letters so that they can be reused again and again.
6. Put the Cards in Order Alphabet Game
Print out the cards and laminate them. Mix them up and see how fast your children can put them in order. Time them and then have they try again to see if they can beat their time.
7. Alphabet Matching Items Game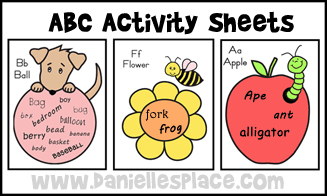 Bring in small items that can be glued or taped to the printable ABC sheets and have your children help you decide where each item should be placed depending on its beginning sound.
A - acorn, paper airplane, almond
B - button, bow, bottle cap, band-aid, bracelet, balloon, blocks, bubble gum, Cheerios, bolt
C - cap, crayon, candy, cross, craft sticks, clothes pin, cup cake wrapper, cashew, hair clip
D - dime, dot, dog bone, dog tag
E - eye (googly eye), eraser, rice, rose petal, envelope, egg (small plastic Easter egg)
F - flower (silk), fortune cookie, feather, fake fur,
G -gum wrapper, guitar pick, glitter
H - heart, toy helicopter, picture of a house, Hershey Kiss, hair, Honey comb (cereal)
I - picture of ice, iron, icicle, iris, igloo, ibis, island, insect, invitation, iguana, pipe cleaner inchworm,
J - jelly bean, juice box, jewel, jack
K - key, kazoo,
L - leaf, lead (from pencil)
M - mitten, M&M Candy wrapper, marshmallow, piece of map, marble, maple leaf, money
N- nickle, nut, finer nail (fake)
O- origami. owl, ornament (Christmas)
P- paper clip, pompom, pin, puzzle piece, pencil sharpener, popsicle stick, pinecone, pecan, pipe cleaner
Q - quarter, picture of a quail, picture of Queen, quill, picture of a quilt, quotation marks
R - rubber band, ring (child's), rock, rickrack, ribbon, rope, raisin
S- stamp, stone, sea shell, sea star or star fish, seed, string, spider, sucker, stone, shoe, straw, baby sock, straw
T - thumb tack, Tootsie roll, tatoo, toothpick, twig
U - umbrella (the kind you put in drinks)
V - piece of velvet, pictures of vacuum, vulture, violin, van, vegetables, vest, veterinarian, volley ball, volcano, valentine card, V8 Juice label
W - whistle, wand from bottle of bubbles, wax, wrapper from candy, walnut, gummy worm
X- x-ray, x-ray fish, picture of x-men,
Y - yellow crayon, yarn, package of yeast, yen, yo-yo, yucca leaf
Z - zipper pull, zero, zebra toy, picture of Ziggy from Internet, picture of a zorilla
8. Bean Bag Toss Alphabet Letter Recognition Game
The following games are great for children who like to move around a lot. They also help develope throwing skills.
Game 1 - Place the printable alphabet sheets on the floor and have your children try to throw bean bags on certain letters. For example, if you are working on the letter F, have your children try to throw the bean bag on that letter.
Game 2 - Have your children try to throw the bean bag on any letter sheet. If the child knows the letter on which his bean bag landed, he gets to keep the sheet. Keep playing until all the cards are gone. The child with the most cards at the end of the game wins.
9. Letter Writing Class Project
Have your children pass around each letter paper and write the corresponding letter on each sheet so that you end up with letter sheets filled with a letter written by each child.
ABC Sorting Cans
These cans can be used over and over again. Use liquid chalkboard markers on removable chalkboard labels. Wipe off the letters or words from the labels and reuse them for other educational activities. The labels peel off easily and can be used over and over again.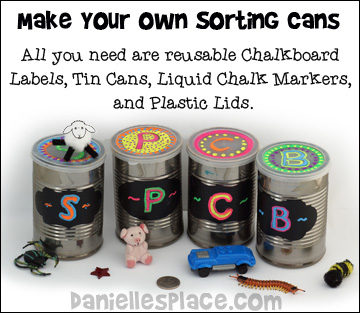 What you will need:
Tin Cans from Canned Fruits and Vegetables
Can Opener that folds down the edge of the can when opening
Pliers
Removable Chalkboard Labels
Liquid Chalk Markers
Can Covers
- The set of 18 has 12 - 3" lids for 15 oz. cans
6 - 4" lids and 6 3.5" lids for 20 oz. cans
How to Make the Can Sorters:
1. Use a can opener that folds down the edge of the can when opening. If you have any sharp edges use pliers to press down the edges. Cans with the pull tabs to open have sharper edges and aren't recommended.
2. Write the color names on the chalkboard labels and stick them to the cans.
3. Collect small toys and household items that will fit inside the cans.
4. Have your child place the items in the appropriate cans, saying the letter and letter sound each time he places an item in the can.
©2015, Digital by Design, Inc. -See Copyright Information
Recommended Reading for Preschool
Great Books to Reinforce the ABCs
Most of the following books can be found at your local library, but you can also find used books on Amazon.com at very reasonable prices. Even though my little girl is almost 19 we still enjoy getting children's books from the library and reading them together at night occasionally.
Outstanding ABC Books for Children
Q Is for Duck: An Alphabet Guessing Game

This classic book has entertained and taught children the alphabet for over twenty-five years. It is not your typical ABC Book. Filled with riddles, children will love trying to guess why A is for Zoo, B is for dogs, E is for Whale. . .

Museum ABC

What a great way to teach your children the alphabet!

This book not only teaches the ABCs but introduces children to over one hundred works of art from the Metropolitan Museum of Art.

Each letter is represented by a word. Works of art from ancient times to the present are used to show how different artists represent the same subject.

Only small sections of each work of art is displayed in this book, but each work is cited so you can search the Internet for the complete work if you find your child is especially interested in a certain image.

A Is for Angry: An Animal and Adjective Alphabet

Are you tired of A is for apple? This adorable book uses adjectives and nouns to introduce children to the alphabet. But it can also be used for older childern to teach adjectives and descriptive writing.

After reading the book have your students make up their own pages and bind them to make a class book.
Letter A Books
Your children will look at ant in a whole new way after reading this book. It even includes a song at the end of the book. Go to the Ants Craft Page to find many crafts and learning activities to reinforce the letter A.

Those Amazing Ants

Children of all ages will love this book! The pictures are so realistic and endearing that you want to reach down and pick up the ants, especially the the little ants that are curled up sleeping.
Letter B Books
I Like Bugs (Step-Into-Reading, Step 1)

The text is simple, but the cartoon pictures make them come alive. The use of rhyme and repetition make this a great book for preschool children. You will find all kinds of bug crafts to go along with this book on the Bug Crafts Page.

If You Were My Baby: A Wildlife Lullaby (A Simply Nature Book)

Each full-page spread introduces a different baby animal and tells what a mother animal would do for that baby. "If you were my baby duck, I would paddle just ahead, Leading you to the wonders of lakes and ponds. The pictures in this book are irresistable!
Letter C
The Very Hungry Caterpillar

There aren't too many preschool children that can resist furry caterpillars. I love the board book that has the holes in each page that are just big enough to give you a glimpse of the next page. Check out the Caterpillar and Butterfly Craft Page to make things that will reinforce your reading.

Chugga-Chugga Choo-Choo

The fast pace rhymes and colorful images in this book will delight your preschoolers. The toys and steam engine come alive and make you want to join in the activity.

Check out the Transportation Crafts Page for directions on how to make a train out of an oatmeal box and shoe boxes.
Letter P Books
Pretty Princess Pig is preparing everything for her tea party, but doesn't realize she is leaving a mess everywhere she goes.

P words - pretty, princess, pig, party, paint, plaster, perfect
Letter W Books
Wow! Said the Owl

"Wow! Said the Owl" by Tim Hopgood is a delightful little story about a curious little owl who instead of staying awake all night took a nap so she could stay up during the day to see what it was like. And "Wow!" is what she said over and over when she saw all the wonderful things that show up during the day. Make Owl Crafts to go along with this book.

Where the Wild Things Are

This was one of my favorite books as a child. I think it was because I could relate to the make-believe world. Don't miss the Wild Thing Movie. It is a great represetation of the book.

Make monsters and wild things to celebrate the letter W.
Alphabet Christian Home School Bible Curriculum
Twenty-six lessons Christian lessons based on a letter of the alphabet, a different animal starting with each letter, and a basic Bible truth. Go to the Home School Curriculum Page to find more information
Back-to-School Crafts
How to Make Crafts for the First Day of School
Go to the Back to School Crafts and Activities for Children Page
Great Back-to-School Books