Bible Crafts for Children's Ministry Letter - C
Preschool and Elementary Bibles Crafts, Bible Games, and Lessons Including: Cain and Abel, Christmas, Church, Christmas, Creation, and Creativity
Cain and Abel Sunday School Lesson Crafts and Activities

Christmas Crafts for Kids - Page 1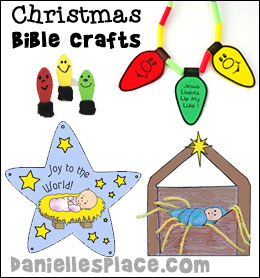 Baby Jesus in a Craft Stick Manger Craft
Baby Jesus in a Manger 3D Craft
Baby Jesus in a Manger Printable Envelope Craft
Baby Jesus in a Manger Printable Envelope Craft for Younger Children
Free Baby Jesus in a Manger Envelope Craft
Joy to the World Star Ornament
Christmas Letter from God Envelope Craft
Free Little Town of Bethlehem Christmas Ornament Craft for Sunday School
Nativity Scene Bible Review Game and Craft
Christmas Bell Crafts for Kids
Baby Jesus in the Manger Sock Craft
Beat the Greedies Christmas Calendar
Jesus, God's Gift to the World
Best Gift Bible Verse Review Game
Christmas Crafts for Kids - Page 2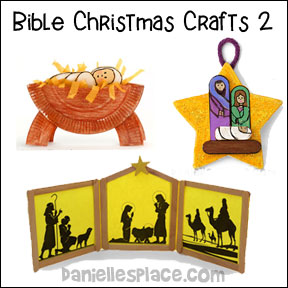 Gingerbread Man Nativity Paper Doll Craft
Nativity Paper Plate Craft for Christmas
Baby Jesus in a Manger Paper Plate Bible Craft Preschool
Baby Jesus in a Manger Paper Plate Bible Craft for Sunday School
"Light of the World" Paper Plate Manger Christmas Craft
Star Nativity Scene Ornament Craft
Christmas Craft - Manger Scenes Triptych
Hawaiian Peg Doll Nativity Scene
Paper Plate Angel Ornament Craft
Christmas Crafts for Kids - Page 3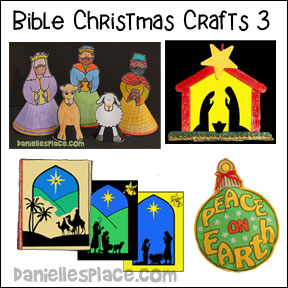 Christmas Crafts for Kids - Page 4
3D Paper Christmas Ornaments Craft for Kids
Shrinky Dink Christmas Ornament Craft
"The Christmas Story" Bible Lessons Series
Lesson 1 - The Prophets Tell the Good News
Lesson 2 - An Angel Tells the Good News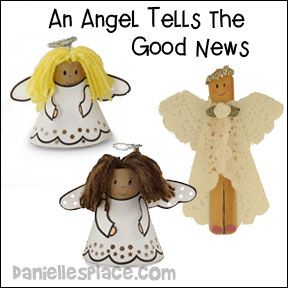 Lesson 3 - The Shepherds Tell About Jesus' Birth
Lesson 4 - The Wise Men Search for Jesus
Yarn Wrapped Craft Stick Star Ornament
"The Wise Men Search for Jesus" Color and Activity Sheet
"Seek and You Will Find" Star Bible Verse Review Game
Lesson 5 - The Rest of the Story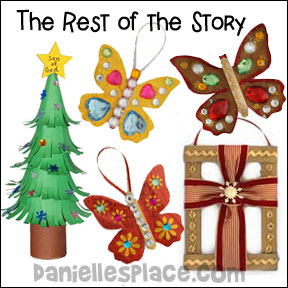 Paper Christmas Butterfly Craft
Christmas Cross with Frame Ornament
"Names of Christ Christmas Tree Craft" and Bible Lesson Review Game
Christmas Tree Bible Lesson Review and Game
Christmas Crafts - Ring the Bells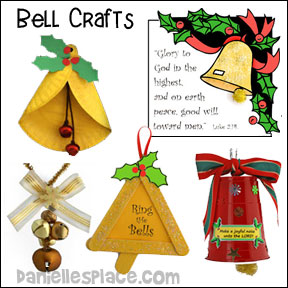 Christmas Crafts for Kids - Jesus Lights up my Life!
Christmas Crafts - Let Your Light Shine Star Crafts and Bible Lesson
Wise Men Bible Crafts
Christmas Party Games For Children's Minsitry
Over twenty Christmas Party Games
Church Bible Lesson, Crafts and Activities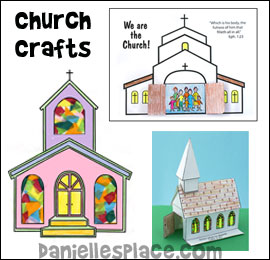 "Here is the Church" Envelope Craft
"We Are the Church" Activity Sheet
Church Activity Sheet - Stained Glass Windows
Stained Glass Window Church Craft
Church Action Rhyme - Here is the Church
Church Stained Glass Window Craft
Commission - The Great Commission
See Good News and Great Commission Crafts
Control Your Tongue
Creation Lessons Index Page
Index Page with Pictures of all the Crafts about Creation
Creation Lessons - "God Made Me" Bible Lesson for Preschool and Elementary Children
Creation Lesson 1 - God Made Me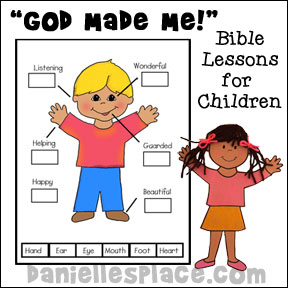 Creation Lesson 2 - "God Made Me" - My Wonderful Eyes
Creation Lesson 3 - "God Made Me" - My Listening Ears
Creation Lesson 4 - "God Make Me - My Fabulous Feet
Creation Lesson 5 - "God Made Me" - My Helping Hands
Creation Lesson 6 - "God Made Me" - My Guarded Mouth
Creation Lesson 7 - "God Made Me" - Happy Heart
Creation of Man Crafts and Activities
Dust Man Verses Snowman Lesson Crafts and Activities
Make a Big Paper Snowman with Poem
Build a Snowman Bible Verse Review Game
Make Gingerbread Man Cookies and Have the Children Decorate Them to Look Like Themselves
Creation Bible Lesson by Day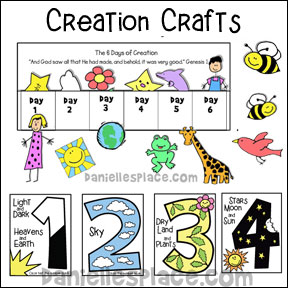 Creation Day 1 - Light and Darkness
Creation Day 3 - Earth and Seas
Creation Day 3 - Plants, Trees, and Flowers
Creation Day 4 - Moon, Sun, and Stars
Creation Day 5 - Water and Fish
Creativity - Christian Art Lessons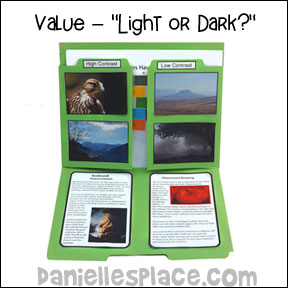 Value – "Light or Dark?"
Colored Pencil Value Matching Activity
Identifying High and Low Contrast Images
Study of Rembrandt's "Christ in the Storm on the Lake of Galilee"
Grayscale Ruler Using Tints and Shades
Cross Crafts