Farm Theme Crafts and Learning Activities for Kids
How to Make Crafts and Learning Activities Relating to
Farms and Farm Animals
Craft Stick Barn with Clothespin Sheep and Goat Craft
This activity is a great way to introduce children to two common farm animals, the sheep and goat. Although they look a lot a like, they have some very unique characteristics. Look up sheep and goats on the Internet with your children and read about what makes them different. When you are done print out the activity sheet and make the sheep and goat clothespin figures. You can also have your children write things about the animals on the sides of the paper to help them remember what they have learned.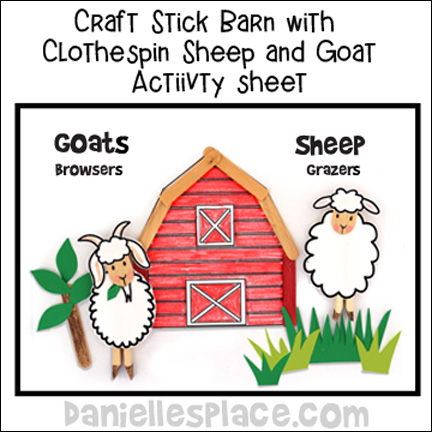 What you will need:
Craft Sticks
(Natural or Colored)
Mini Woodsies Craft Sticks
Jumbo Craft Sticks
Wood Clothespins
All Purpose Glue
Green Paper
Prismacolor Premier Colored Pencils, 24 Assorted Color Pencils
or Crayola Colored Pencils
How to Make the Barn and Animals:
1. Print out the Barn Pattern or draw a barn pattern on a sheet of paper. Have your children color the picture and and then glue craft sticks that have been cut in half to the barn. (A Printable Pattern for this craft is available to members.)
2. Draw goat and sheep pictures and glue them to the side of the clothespins. Or use the Printable Pattern available to members. You can also glue a cotton ball to the side of a clothespin and then glue the end of a jumbo craft stick on the cotton ball for the head of the sheep and goat. (You can also use part of a jumbo craft stick to make the legs of the goat and sheep.)
3. Have your children cut grass and leaves from green construction paper and glue them to the sheet on the appropriate side.
©2013, Digital by Design, Inc. - See Copyright Information
Make a Popsicle-stick Barn Craft and Learning Activity
Use "Chicken, Pig, Cow
" by Ruth Ohi in your home school as a creative way to teach reading, writing, and art. (See Below)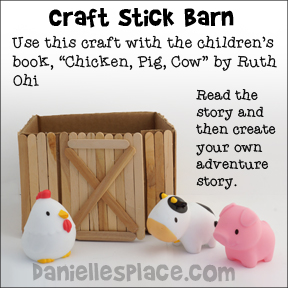 What you will need:
Popsicle Sticks (Craft Sticks)
Mini Craft Sticks
Cardboard Box
Glue
Paint (Optional)
Animal Figurines
Camera
Paper
Barnyard Bath Toys
(These are from ToysRUs)
How to Make the Popsicle Stick Barn:
1. Cut your box so that it is no higher than your craft sticks. Cut a door out of one side of the box leaving the door attached at the side. Fold the door open.
2. Glue craft sticks to the box making sure that you will be able to open the door. Leave a small space between the craft sticks at the fold of the box.
3. To make the door stand out from the rest of the barn glue craft sticks in an "X" shape and then glue two mini craft sticks at the top and bottom of the door (See picture).
4. You can leave the barn the natual wood color or paint it with acryclic paint.
Chicken, Pig, Cow
love their cozy barn except when it rains dog droll. Even though they are quite content in the barn, they decide they want to explore beyond their little home. Unaware of the hazards, Pig and Chicken manage to escape leaving Cow all by himself until Dog knocks over the barn sending Cow flying across the room. Can Chicken and Pig save Cow from the drooly, snorting dog? Children will love learning how the animals work together to save Cow.
Reading - The simple text, large words, and enticing pictures will keep your children interested in reading this book.
Art - Study the craft stick barn in the pictures and have your children make thier own barn. Ask them what they think the animals might eat. Have them place hay, grass, etc. in the barn for the animals.
Creative Writing Activity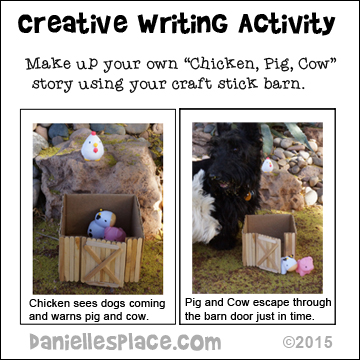 Make up your own story using your craft stick barn, toy animals, and whatever you might have.
Note: If you don't have craft sticks, you can make a barn out of a cardboard box.
Encourage your children to make fences, silos, and other things they might see on a farm. Have your child reinact their own story and take pictures as he reenacts the story. If you have a pet, be sure to include your pet in the story.
Print out and glue the pictures to book pages, and then help your child write a story that goes along with the pictures.
©2015, Digital by Design, Inc. - See Copyright Information
Other Books in this Series
Farm Animal Craft on Other Pages
Farm Toys
Recommended toys to promote creative play and fun learning activities.