Farm Theme Crafts and Learning Activities for Kids
How to Make Crafts and Learning Activities Relating to
Farms and Farm Animals
Craft Stick Barn with Clothespin Sheep and Goat Craft
This activity is a great way to introduce children to two common farm animals, the sheep and goat. Although they look a lot a like, they have some very unique characteristics. Look up sheep and goats on the Internet with your children and read about what makes them different. When you are done print out the activity sheet and make the sheep and goat clothespin figures. You can also have your children write things about the animals on the sides of the paper to help them remember what they have learned.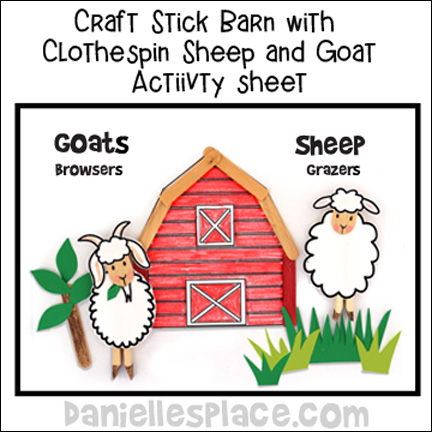 What you will need:
Craft Sticks
(Natural or Colored)
Mini Woodsies Craft Sticks
Jumbo Craft Sticks
Wood Clothespins
All Purpose Glue
Prismacolor Premier Colored Pencils, 24 Assorted Color Pencils
or Crayola Colored Pencils
(See Product Description and recommendations for this product.)
How to Make the Barn and Animals:
1. Print out the Barn Pattern or draw a barn pattern on a sheet of paper. Have your children color the picture and and then glue craft sticks that have been cut in half to the barn. (A Printable Pattern for this craft is available to members.)
2. Draw goat and sheep pictures and glue them to the side of the clothespins. Or use the Printable Pattern available to members. You can also glue a cotton ball to the side of a clothespin and then glue the end of a jumbo craft stick on the cotton ball for the head of the sheep and goat. (You can also use part of a jumbo craft stick to make the legs of the goat and sheep.)
3. Have your children cut grass and leaves from green construction paper and glue them to the sheet on the appropriate side.
©2013, Digital by Design, Inc. -See Copyright Information
Farm Animal Craft on Other Pages
Farm Toys