Bug Crafts for Kids Page 2
How to Make Bug Crafts and Learning Activities for Children
Termite with Moving Mandibles Paper Craft for Kids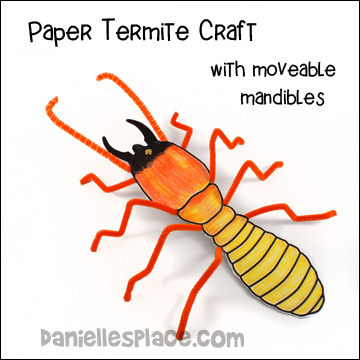 What you will need: Card Stock (Heavy Paper), Chenille Stems, Brass Fastener, Tape and Glue
.
What to do:
1. Print out the termite patterns.
Member's

Instant Digital Download

2. After studying termites have your children color the patterns to look like a termite.
3. Punch holes in the mandibles and in the center of the head. Secure the mandibles to the underside of the head with a brass fastener.
4. Tape Chenille stems to the underside of one of the patterns for legs and antennae, and then glue the other pattern over the other pattern to cover the Chenille stems. Leave the top of the head open so that the mandibles move. Glue the mouth (the protrustion at the top of the head) closed.
5. Bend the Chenille stems to form legs.
©2017, Digital by Design, Inc. -*See Copyright Information