State of Texas Crafts and Activities
How to Make Crafts and Activities Related to Texas
Armadillo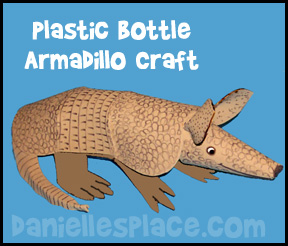 What you will need:
Tan, Brown, or Gray Craft Foam
Hot Melt Glue Gun and Glue
Markers
20 oz. Plastic Bottle
Scissors
How to make:
1. Print out the patterns.
Free Instant Download

2. Cut out all the patterns. Place the shell, head, and ear pattern on fun foam. Trace the patterns onto the fun foam and cut them out. Place the leg pattern on a piece of paper that has been folded in half. Trace the pattern onto the folded piece of paper and cut it out. Unfold the paper and place it on a piece of fun foam. Trace it and cut it out.
3. Glue the leg pattern around a 20 oz. plastic bottle so that the legs are hanging down on one side of the bottle (See the picture.).
4. Cut the four slits on the shell pattern. Make four darts in the shell by placing glue along the under side edge of each slit. Bring the edge of the slit over the meet the dotted lines. Press until the glue sticks. Do each dart one at a time.
5. Glue the shell over the legs so that just the legs show. (See picture.) The front of the shell, the part that has the curve that goes inward, should be glued to the top of the bottle where the head will be attached.
6. Glue the head pattern together to make a cone shape. Cut the slits by the nose. Push the fun foam under the nose in towards the center of the cone and bring the nose down over the fun foam that you pushed in. Glue it down. Glue the head to the top shell by placing some glue on the tab that sticks out from the head. Place the head over the top of the bottle so the tab is under the front of the shell.
7. Place a tiny bit of hot melt glue in the bottom center of each ear. Fold the ears in half and hold the fold down until the glue holds. Glue the ears to the head where marked.
8. Cut a tail from the left over fun foam.
9. Use a marker to draw on the mouth and eyes. To finish draw stripes and circles on the shell and head.
©2000, Digital by Design, Inc. - See Copyright Information
Children's Books about Texas