Recycle, Reuse, Repurpose Crafts
How to Make Crafts using recycled Items
Decorative Clips Made from Binder Clips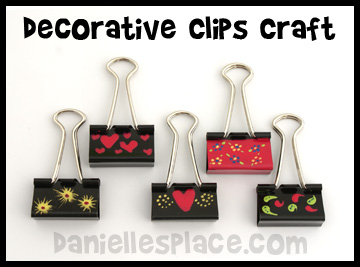 Decorate binder clips with fingernail polish and use them to seal opened food packages or keep papers in order.

What you will need:

Binder Clips (Any size of color)

Bright Colors of Fingernail Polish

Very Thin Paint Brushes

How to Make the Clips:

1. Use a tiny brush or toothpicks to dab fingernail polish onto the binder clips.

2. To make the different shapes dab a blob of fingernail polish onto the binder and then use a toothpick to push the paint outward to make the shapes you want.

How to Print or Copy these instructions.

©2013, Digital by Design, Inc. -*See Copyright Information
Piggy Bank Made from Recycled Plastic Container
What you will need:

Large plastic container, acrylic paint, Craft Foam, Googly Eyes, Low Temp. Glue Gun, scissors and knife, Foam Marshmallows, small cups, or plastic lids for the legs.

How to Make a Piggy Bank From a Plastic Container:

1. Clean and dry your container and then cut a slit in the one side of the container big enough to insert coins with a knife.

2. Paint the container and legs the color you would like your pig except for where you will glue on the legs. The paint will pull away from the container if you glue the legs onto it.

3. When the paint is dry glue on the legs.

4. Cut ear shapes from fun foam and glue them onto the pig.

5. To finish add a pretty design and glue on eyes.

Created by Corrin Burner


How to Print or Copy these instructions.

©2012, Digital by Design, Inc. -*See Copyright Information
Wrapping Paper Beads
Don't throw old Birthday wrapping paper away! You can make beautiful beads with it.

What you will need: Wrapping paper, Scissors, ruler, Elmer's glue, round toothpicks, and clear paint or nail polish.

How to make:

1. Flatten out the wrapping paper and cut it about 8" long x 8" wide. Cut long wedges 1 - 1.5" inches wide at the bottom to a point at the top and 8" long.

2. Pour some glue into a cup and add some water to make it thin.

3. Carefully roll the wide end of the paper around a toothpick as shown in the picture.

4. Paint glue on the rest of the paper and roll it up around the toothpick.

5. Gently twist the toothpick the opposite way you rolled the bead and pull it out.

6. Let the beads dry completely and paint them with clear paint or clear fingernail polish.

How to Print or Copy these instructions.

©2010, Digital by Design, Inc. -*See Copyright Information
I'd Rather Be Golfing - Carved Golf Ball Craft
What you will need: Golf balls, hand saw, table vice, flat screwdriver, Dremel Tool with Carving Blades, Hand Held Vice, Sculpey Clay, toothpick, dry erase marker, Super Glue, and acrylic paint.

How to make:

1. Mark the center of the ball all the way around with a dry erase marker. Place the ball in a vice so that it doesn't move. Use the hand saw to cut all the way around the ball. Cut only through the hard outer shell being careful not to cut through the rubber ball that is inside.

2. Once it has been cut all the way around, use a screwdriver to pry the shell off one side of the ball. Save the side you pried away to use as a stand.

3. Decide what you would like to carve into the ball. Lightly draw the design on the rubber. Decide which areas are going to be the deepest. Place the ball in a hand-held vice and start carving out the deepest areas such as the mouth and eyes. When you are all done carving you can add other features using Fimo clay. Cook the clay and then glue the pieces to the sculpture with Super Glue. Note: It is always a good idea to wear goggle and a dust mask. The rubber is quite fine and you don't want to breath it in.

4. When you have finished assembling the piece add paint to bring your piece to life.

How to Print or Copy these instructions.

©2008, Digital by Design, Inc. -*See Copyright Information
Boy and Girl Can Caddies

What you will need: A small and large aluminum coffee can, 3/4-inch screw & nut, a hammer and nail, a pink pompom for the nose, Wiggly Eyes, felt for the hair and arms, lace (girl), buttons, Hot Melt Glue Gun and Glue (low temp), and wooden craft spoons.

Acrylic Paint - You will need a flesh color for the face and wooden craft spoon, and any color you would like to paint the clothes. You will also need some black dimensional fabric paint or a black permanent marker to draw in the face.


How to make:

1. Paint the smaller can flesh color and the larger can any color you would like for the clothes. You can also cover the larger can with material or felt instead of painting it.

2. Have an adult hammer a hole into the center bottom of the large coffee can and the small coffee can. Place the can bottom to bottom, lining up the holes, and run a screw through both holes and secure with a nut.

3. Cut felt or material 1" x 2" for the arms and them glue over the wooden spoons leaving one end of the spoon showing for the hand as shown in the pictures. Glue the arms to the sides of the large can.

4. Glue buttons to the front of the can and lace around the bottom of the girl can.

5. Cut felt strips for the hair and glue to the top of the small can. Glue on a pink pompom for the nose.

6. Use black dimensional fabric paint or a black permanent marker to draw in the eyebrows and mouth.

How to Print or Copy these instructions.

Designed by Tracy Piatt

©2007, Digital by Design, Inc. -*See Copyright Information
Tie Snake Craft
What you will need: Old ties, polyfil stuffing, wiggly eyes, glue, wire (from a hanger)

How to make:


1. If you would like your snake to be bendable, straighten out a wire hanger or use some other type of wire. Make sure you fold down the ends of the wire with some needle nose pliers so that the edges are very smooth. Insert the hanger into the tie.

2. Stuff the tie with polyfil from each end of the snake.

3. Glue or sew the tail end of the snake closed.

4. Push some stuffing up into the point of the snakes head (the wider end of the tie). Glue the end closed and glue on some wiggly eyes to finish.

How to Print or Copy these instructions.

©2005, Digital by Design, Inc. -*See Copyright Information
Plastic Milk Jug Whale Craft
What you will need:

Empty Plastic Milk Mug

Large Wiggle Eyes or Permanent Marker

Low Temp Mini Glue Gun

Sharp Scissors

Valspar Plastic Primer Spray Paint or Krylon Clear Plastic Primer Paint - If you are using the Acrylic Patio Paint

Krylon Fusion for Plastic Paint - Or other Spray Paint made for plastic

How to Make the Milk Jug Whale Craft:

1. To remove the label fill the jug up with hot water and let it sit for a minute. This will loosen the glue. Carefully pull off the label. Do not get the label wet before trying to remove it or it will just disintegrate and you will have a hard time getting it off. Once the label is removed you can wash and dry the plastic milk jug.

2. Draw the mouth shape as shown around the bottom of the milk jug with a marker (use a marker that will wipe off in case you make a mistake). Poke a whole in the marked line with a knife so that you will be able to insert your scissors. Cut out the mouth in one piece. This piece will be used for the whale's fin.

3. Cut two slits in the screw top so that you will be able to insert the fin.

4. Shape the mouth piece to cut it into a fin shape as shown in the diagram.

5. Insert the fin into the two slits you made on the milk jug and glue it in place.

6. Spray the jug with plastic primer paint and then paint it with the acrylic patio paint or spray paint it with spray paint made for plastic. Spray paint works best because the craft foam sticks better to the spray paint than the acrylic paint.

6. To finish glue on large googly eyes or use a permanent black marker to trace around the mouth, draw in eyes, and lines on the fin.

How to Print or Copy these instructions.

Nancie Gordom says, "I used the whales yesterday and they were a huge success with both the children and adults. I knew the kidos would like anything that involved 'throw' as Jonah into the whale. I sprayed mine with silver paint which didn't take long and worked well. Not only did the kid have a terrific time I feel sure they will never forget the story of Jonah and the whale."
More Milk Jug Crafts on Other Pages
| | | |
| --- | --- | --- |
| | | |
| | | |
| | | |
| | | |
| | | |
| | | |
| | | |
L'oreal Goldfish Craft
These fish cost less than a dollar to make. The L'oreal Kid's shampoo bottles come in different colors so you can make some different types of fish.

What you will need: L'oreal kid's shampoo bottle, glue gun with low temp glue, orange Fun Foam, 3/4 inch eye, or a black marker.


How to make:

1. Cut two pieces of orange fun foam to cover the L'oreal labels on the bottle. You can leave the eye showing on the front of the bottle or cover it and glue on your own eyes.

2. Print out the fin patterns Pattern 1 and Pattern 2 and trace onto the orange fun foam. Cut them out and cut slits in the foam where indicated on the pattern. Glue to the body. (Printing Problems?)

3. Glue on a black string to the top to hang.

How to Print or Copy these instructions.

©2005, Digital by Design, Inc. -*See Copyright Information
Spinning Space Ship Toys
How to make: Glue a Slurpy lid to each side of an CD using a low temp glue Gen. You may want to use two CD's and glue the word sides together so that both sides of the space ship are pretty. Spin them on a flat surface like you would a jack or coin.

How to Print or Copy these instructions.

©2005, Digital by Design, Inc. -*See Copyright Information
Greeting Card Puzzles
Cut your old greeting cards into smaller pieces and glue them onto card stock to make instant puzzles for your children. Glue them onto magnetic sheets and cut them into pieces to make puzzles you can place on your refrigerator. This is a great way to keep young children busy while you are in the kitchen. Idea sent in by Lana Britt