Christian Home School Art Lessons
Artistic Design and the Great Designer
Art Lessons on The Elements and Principles of Design from
a Biblical Perspective
Fun art projects for all ages. The lessons are adaptable to all ages and abilities.

Biblical concepts that go along with each element of design.
Children learn artistic techniques, experiment with different artistic media, read books relating to each element, and learn about famous artists and art movements.
Each lesson comes with printable patterns that are displayed in a file folder that folds out to become an easel on which your children's art can be displayed.
Subjects Covered:
Point and Dot - "What's the Point?" - Free Sample Lesson
Bible Verse: "For we are God's workmanship, created in Christ Jesus to do good works, which God prepared in advance for us to do." Eph. 2:10
Teaching Concept: A point is a location, and a dot is a mark at a certain point. Dots are the building blocks of all the other elements. Dots give meaning to a canvas. They provide points of focused attention and reference points. When God created us he put a "dot" in our hearts, a conscious, and knowledge of him. He gives us a reason for living.
Artists and Artistic Techniques: Pointillism, George Seurat, and Aboriginal Dot Painting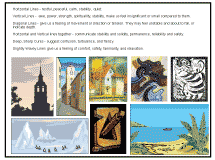 Line – "Which Path do You Choose?"
Bible Verse: "Give careful thought to the paths for your feet and be steadfast in all your ways." Pr. 4:26
Teaching Concept: A line is a path between two points. Lines can have many different characteristics. They can be straight, curved, fat, or skinny. The Bible talks a lot about the paths we take, referring to the decisions we make and the consequences of those decisions. According to the Bible there are two paths we can pick; the right one and the wrong one. The right path leads to life, the wrong one lead to death.
Artists and Artistic Techniques: Wassily Kandinsky's crayon drawing, Paul Klee, symbolism in art, Aboriginal Artist Ronnie Tjampitjinpa's line and symbol paintings, illustrator and author Ed Emberley and thumbprint art, and illustrator author Patrick McDonnell
Bible Verse:"Choose you this day whom ye will serve . . . but as for me and my house, we will serve the Lord.: Joshua 24:15, KJV
Teaching Concept: You are a lot like an artist. Every choice an artist makes about the shapes on his canvas affects the outcome of his work. God has given you the freedom to choose how you will live your life. Every choice you make has consequences and determines how your life is shaped.
Artists and Artistic Techniques:
Jean Arp's Collage Arranged According to the Laws of Chance, organic and abstract shapes, Printmaking techniques - positive and negative shapes.
Bible Verse: "For we walk by faith, not by sight:" 2 Corinthians 5:7, KJV
Teaching Concept: People are affected by the colors and combinations of colors they see in a work of art. A good artist uses color and other elements and principles of design to create a piece that conveys his feelings and elicits strong emotions from the viewer.
As a Christian we are to walk by faith, not by what we see because what we see is not always what we can depend on. We live in the physical world, but must also consider the spiritual, the unseen world. Things may look bleak and out of control, but we can know that God is always in control when we put our faith in him.
Artists and Artistic Techniques:
Georgia O'Keefe, Claude Monet, Impressionism, and color theory.
Value – "Light or Dark?"
Coming Soon!
©2012, Digital by Design, Inc. -See Copyright Information