Crafts and Learning Activities
Elements of Design - Shape
Including: Printmaking Techniques, Children's Books About Shape
Printmaking - Experiment with Positive and Negative Shapes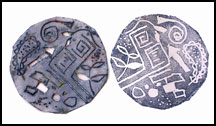 Printmaking is the process of making prints from a block or plate that has been carved with a design. The artist makes a master plate by carving an image into block of wood or other material such as linoleum, Styrofoam, metal cardboard, or stone. To make prints from the master plate the artist applies ink or paint to the surface of the plate then pressing a piece of paper or other material onto the plate, and then pulls the paper or material away from the plate. Many prints can be made from one master plate by performing the process over and over. The first prints made from the master plate are called proofs.
In this project we will be printing the "negative shapes" formed from the positive shapes that were pressed into the Styrofoam plate. To print positive shapes the artist would have to remove all the material around the shapes instead of pressing down on the shapes (which is like removing the material from the plate)
What you will need: Styrofoam plates, scissors, water-based marker, 3-inch roller with paint tray (You can buy these from a hardware store for less than $2.00, newspaper, thick acrylic paint, and a sharp object.
What to do:
1. To make your "master plate" cut off the curved edge of the Styrofoam plate so that you have a flat round circle.
2. Use a marker to lightly draw shapes, symbols, and lines on the plate. If you mess up the lines, you can erase them by wiping them off with a paper towel.
3. When you are finished drawing your design use a sharp object to press down on the lines and indent the Styrofoam.
4. Place your "master plate" on some newspaper. Squeeze some acrylic paint into the paint tray and then roll your paint roller up and back over the paint until the roller is evenly covered with paint.
5. Roll the paint roller over the "master plate" until it is covered evenly with paint.
6. To make an artist's proof place a piece of paper over the "master plate" and gently rub over the top of the paper. Peel the paper away from the plate and set it aside. If the proof looks good, you are ready to make your prints. This would be a great project to make a set of Christmas cards or other types of cards.
7. Experiment with different colors of paper and paint, or use a combination of different colors of paint. Once your prints have dried you can add words or other colors to them.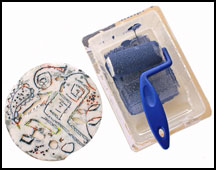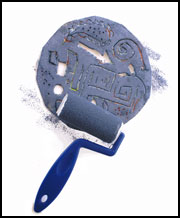 ©2012, Digital by Design, Inc. - See Copyright Information
"Beautiful Oops!" by Barney Salzberg
Beautiful Oops!
- This adorable pop-up, lift-the-flap book is filled with surprises. A torn paper turns into an alligator's mouth, a spill turns into an elephant and a bent page into a penguin's head. This is a great book for children who are perfectionist; it will teach them that even mistakes can be made into something useful. They will actually be excited about the possibilities when they make a mistake.
1. Let your imagination run wild and experiment with your own oops, blobs, torn paper, folded paper, and spills to see what new creations you can come up with.
"Perfect Square" by Michael Hall
Perfect Square
- It was a perfect square. It had four matching corners and four equal sides. And it was perfectly happy. Throughout the week it was cut into pieces, torn into scraps, shredded in strips, shattered, snipped into ribbons, and crumpled and ripped, and wrinkled to make all kinds of new things. But on Sunday nothing happened and the square's four equal sides became confining, the four corners were rigid and cramped so the square drew a cross on itself and made itself into a window!
This is a great book to use as an introduction to shapes. Have your children cut up, shred, snip, and tear square shapes and make them into new shapes.
"My Heart Is Like a Zoo" by Michael Hall
My Heart is Like a Zoo
- All the animals in this book are made with heart shapes. With simple text it discribes each animal with different emotions that come from the heart: a hopeful as a hungry heron, a silly as a seal, an eager as a beaver, and a steady as a yak.
Have your children use hearts to make their own animals.
"Not a Box" by Antoinette Portis
Not a Box
- Drawn with minimal lines but still amazingly effective this adorable story shows how one imaginative little bunny can turn a simple box into whatever pleases him. Use this story to prick your imagination. Help your children build things with boxes. They're so much fun!
See the story "Not a Box" on YouTube.
Don't miss this Amazing Video about an imaginative boy, Caine, who builds his own arcade using boxes!
"When a Line Bends . . . A Shape Begins" by James Kaczman
When a Line Bends . . . A Shape Begins
- A line is a jump rope, black ants in a row, a tug-or-war game and a violin bow . . Yes, a line is fine, but when a line swerves, when a line bends, watch what can happen . . . a shape begins!
Kaczman describes different shapes and where they are found.
Ed Emberley's Drawing Book of Animals
Ed Emberley's Drawing Book of Animals
- Children learn how to draw animals using triangles, circles, and squares, and the letters, Y, J, L, C, D, S, V, W, M, and U.
Ed Emberley many other books on how to draw including: Ed Emberley's Drawing Book of Trucks and Trains
, Ed Emberley's Drawing Book of Weirdos (Ed Emberley Drawing Books)
, Ed Emberley's Drawing Book: Make a World
, Ed Emberley's Drawing Book of Faces)
Your children will enjoy making their own pictures out of these simple shapes.
Ed Emberley's Picture Pie
Ed Emberley's Picture Pie (Ed Emberley Drawing Books)
- Ed Emberley shows how to cut a circle into shapes that can be put together to make more complex shapes.
Have your children make their own book using these simple shapes.
Ed Emberley's Picture Pie Two
Ed Emberley's Picture Pie Two (Drawing Book Series;)
- Ed Emberley's Picture Pie Two uses two shapes, the square and circle, to make more complex shapes with directions on how to make a menagerie of animals and other images. The book also includes a stencil to help children draw the shapes and lines.
Elements of Design Crafts and Learning Activities on Other Pages
Elements of Design - Point and Dot
Artistic Design and the Great Designer
Christian Home School Art Lessons - Art Lessons on The Elements and Principles of Design from a Biblical Perspective