Puzzle Piece Crafts and
Learning Activities for Kids
How to Make Crafts and Activities with Puzzle Pieces
Frankenstein Puzzle Piece Craft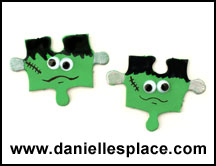 What you will need:
Puzzle pieces, Blank Puzzles Pieces or Larger Puzzle Pieces, googly eyes, acrylic paint, permanent markers, magnet or pin, and glue.
What to do:
1. Paint the puzzle pieces with acrylic paints or color them with permanent markers. If you use markers that aren't permanent markers draw on the side that doesn't have the shiny coating. The markers will stick better without rubbing off.
2. When the paint dries glue on googly eyes.
3. Use a permanent marker to draw in the mouth.
4. Glue a magnet to the back of the pieces.
© 2012, Digital by Design, Inc. - See Copyright Information
Pins and Refrigerator Magnets Made from Puzzle Pieces
Christmas Ornaments Made from Jigsaw Puzzle Pieces