Crafts for Kids Index Page 1
A - Crafts
ABC Printable Activity Sheets with Hands-on Learning Games and Activities
How to Make Abraham Lincoln Crafts Including:

Abraham Lincoln Paper Bag and Paper Plate Craft and Writing Activity

"Following in Abraham Lincoln's Footsteps" Classroom Writing 
Activity and Bulletin Board Display

" Hats Off to Abraham Lincoln!" - Classroom Writing Activity and Bulletin Board Display

"Hats Off to Abraham Lincoln" Hat-Shaped Book Activity for Younger Children

How to Make an Abraham Lincoln Stovepipe Hat

Abraham Lincoln's Stovepipe Hat Decorations

Great Books About Abraham Lincoln for Children
How to Make Crafts and Learning Activities Relating to Acorns and Trees

"Five Little Acorns" Itty Bitty Book
How to Make African Animal Crafts Including:

Felted Giraffe

Foam Marshmallow Giraffe Craft

Newspaper and Masking Tape African Animal Sculptures

Giraffe Magnet or Pin Puzzle Piece Craft

Folded Paper Lion Craft

Folded Paper Rhinoceros Craft, Folded Paper Zebra Craft, Folded Paper African Elephant Craft, No-Sew Sock Elephant Craft, Foam Marshmallow Lion Craft, Dung Beetle, Hippopotamus Cup Craft, Foam Marshmallow Hippo Craft, and Meerkat Paper Craft.
How to Make African Related Crafts Including:

Book Safari - Books relating to Africa and crafts and activities that go along with the books including:

Number Safari

TP Roll Binoculars

Egg, Carton Mancala Game and Calabash Bowls and Spoons

Count to Ten in Swahili

Classroom Safari

Word Safari Race

Cardboard Box Jeep, Picture Safari, and much more.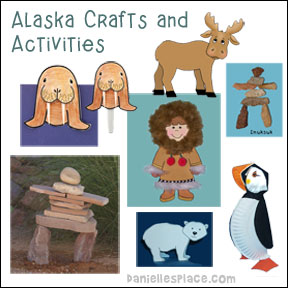 Crafts and Learning Activities relating to the State of Alaska Including:

Inuit (Eskimo Coloring and Activity Sheet

How to Build Your Own Inuksuk

Inuksuk on Paper

Moose Crafts and Learning Activities

Paper Plate Puffin

Walrus Paper Plate Crafts

Polar Bear Crafts

Walrus Plastic Spoon Crafts, Flyswatter Craft, Mosquito Craft, and Books about Alaska
How to Make Animal Crafts Including:

An Armadillo Craft

Bighorn Sheep Craft

Bird Crafts

Cat Crafts

Camel Crafts

Paper Lunch Bag Cow Puppet

"The Cow Jumped Over the Moon" Paper Plate Craft, Standup Dog Crafts, Elephant Crafts, Giraffe, Horse, Kangaroo, Lion, Hugging Mice Craft, Monkey, Moose Puppet, Panda bear, Pangolin, Paper Plate Pig, Standing Possum, Sheep, Snake Bracelet, Squirrel, Turtles, Meerkat and Yak crafts.
Animal Tracks Match Up Color Sheet

Animal Tracks Plaster Casts

Paw Print Crafts - Paw Print Poem for Dog Lovers, Paw Print Frames Crafts

Great Books about Animal Tracks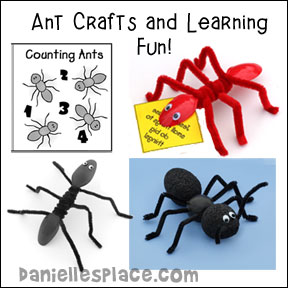 How to Make Ant Crafts Including:

Paper Ant with Note Paper Craft

Styrofoam Ant Craft

Plastic Spoon Ant Craft

Ant Bug Buddy Study

Good Books About Ants.
How to Make Arctic Animal Crafts
Including:

A Polar Bear Dessert Dish Craft

Folded Paper Polar Bear Craft

"Let it Snow" Polar Bear Poster

Bottle Polar Bear Craft

Paper Plate Puffin Craft

Walrus Paper Plate Craft

Moose Crafts
Armadillo Crafts and Learning Activities Including:

Armadillo Arm Band Craft for Kids

Plastic Bottle Armadillo

Three-banded Armadillo Paper Craft

Nine-banded Armadillo Paper Craft
Crafts and Activities Relating to Art, Artists, and Creativity Including:

Using Arts and Crafts to Teach Children

Teaching Art to Children - Tips on how to teach your children art and and bring out their natural creativity.

Elements of Design: Point, Line, Shape, Color, Texture, and Value

Pointillism, Children's Books Relating to Art, Printable Books, Printmaking Techniques

Bible-based Home School Art Lessons using Lapbook Easels
How to Make Australian Crafts for Kids Including:

Kangaroo Crafts

Australian Dot Art

Echidna Craft

Platypus Paper Bag Puppet

Kangaroo Planter

Caddy Stenciling
B - Crafts
How to Make Crafts Relating to Back to School and Being Ready for School Including:

"Froggy Goes to School" Paper Doll Craft, Paper Bag Backpack Craft, Lunch Box Note Cards, Learning to Read and Write Through Play, "Leap into Learning" Bulletin Board Display,

"Read It! Read It!" Frog Bookmarks

Ready-for-school Memory and Concentration Games

School Supply Puzzle

Ready-for-School Faith Rocks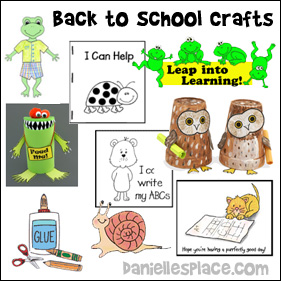 How to Make Bats Crafts Including:

Bat with Moveable Heads to be used with the book "Stellaluna"

Fruit Bat with Moveable Head Craft

Bat Diagram Color Sheet that goes along with the book "Stellaluna"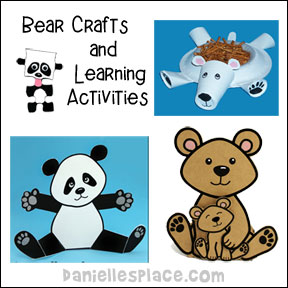 How to Make Bear Crafts and Learning Activities for Children Including:

"Beary Special" Printables

Panda Bear Crafts

Polar Bear Crafts

"Dad, You're Beary Special" Father's Day Card Craft
How to Make Bee Crafts for Kids Including:

Bee Bookmark Craft

Bee Printable Review Game

Collecting Nectar Printable Bee Game Board

Bee Crown Craft

Printable Bee Book

Bee Paper Bag Craft

Bee Paper Plate Craft, Bent Spoon Bee Craft, Bee Decorations, Beehive Piñata, Pompom Bee Craft, Beehive and Bee Picture, Bee Shape Book, Good Books about Bees, Bee Candy Dish Craft, Bee Posters, Foam Bee Pin Craft, Bee Games and Activities.
How to Make Crafts Relating to Benjamin Franklin:

A No-Sew Benjamin Franklin Stick Puppet

Benjamin Franklin Holding a Penny Activity Sheet

Inventions and Achievements of Benjamin Franklin Worksheet and Color Sheet

Make Candles and Soap

Dip Candles and Mold Candles, Make a Quill Pen and Write with a Quill Pen, Make up a Pen Name and Disguise Your Handwriting, Colonial Print Shop, Piggy Bank, Words of Wisdom, Make Your Own Almanac, and Illustrate Words of Wisdom or Color a "Words of Wisdom" Color Sheet.
Thousands of Bible Crafts and Activities for Sunday School and VBS. Go to the Bible Crafts Page for an Index of Crafts.
How to make Bird Crafts Including:

Paper Raven Craf

Paper Plate Blackbird or Raven Craft

Blackbird Paper Bag Puppets

Pinecone Owls

Quail

Pringle's Potato Chip Bird Feeder Craft

Felted Blue Bird

Red Bird Card and Paper Craft, Ribbon and Bell Cardinal Craft, Bird Picture with Real Leaves, Feather Bird Craft, Lucky Duck Paper Plate Craft, Pink Flamingo Craft, Hen and Chick Crafts, Bird Feeding Elijah Picture, Whooping Crane Puppet, Bird Puppet Craft, Early Bird Coloring Sheet, Paper Bag Owl, Paper Plate Quail and Turkey Crafts. Also see Duck Crafts for Kids.
Birthday-Themed Parties

Veggie Tales Party Ideas

Crafts

Games, Blue's Clues Paper Ideas

Ocean and Water Theme Birthday Party Crafts and Games

Dinosaur Party Ideas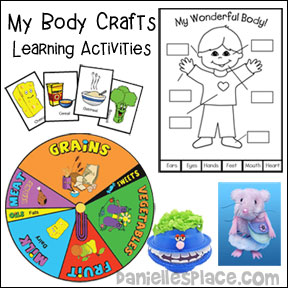 My Wonderful Body Printable Sheets

Brush Your Teeth Talking Puppet

Free "Brush Your Teeth" Toothbrush-shaped Book Pattern

Tooth Fairy Crafts

Tooth Fairy Traditions Around the World

Eating Healthy Interactive Food Pyramid Game

Learn the Food Groups Game

Skeleton Crafts and Learning Activities

"I Can Hear" Printable Itty Bitty Book
List of Chidlren's Books that teach good morals with suggested activities to go along with the book.

"The Best Family in the World" by Susana Lopez
"Mouse was Mad" by Linda Urban
"The Little White Owl" by Jane Chapman
"Violet's Music" by Angela Johnson
"A Color of His Own" by Leo Lionni
The Little Peacock's Gift
The Tooth Fairy Meets El Ratón Pérez
"Because of You" by B. G. Hennessy
"The Dot" by Peter H. Reynolds
"I Ain't Gonna Paint No More!" by Karen Beaumount
"Scaredy Cat" by Joan Rankin
"The Kindness Quilt" by Nancy Elizabeth Wallace
" The Littlest Owl" by Caroline Pitcher


"You're Finally Here! " by Melanie Watt

"Stretch Yourself! Read a Book" Bookmark Craft for Kids

"The Little Mouse, The Red Ripe Strawberry, and The Big Hungry Bear" by Don and Audrey Wood

"Working Frog" by Nancy Winslow Parker - Crafts and Learning Activities

"If You Give a Moose a Muffin" Moose Vocabulary Craft Page and Color Sheet

"Duck on a Bike" by David Shannon

"The Grouchy Ladybug" Ordinal Numbers Activity

"The Red Bird" - by Astrid Lindgren
How to Make Bug and Insect Crafts Including:

A Styrofoam Ant Craft, Bee Crafts, Beetle Bug Pencil Toppers, Dragon Fly Craft, Dung Beetle Refrigerator Magnet, Walking Stick, Bug Buddies Studies, Praying Mantis Insect Craft, Ladybug Crafts, 3D Paper Goliath Beetle Craft, Changing Colors Tortoise Beetle Paper Craft, Mosquito Craft and more.

Also See:

Ant Crafts and Learning Activities
Bee Crafts and Learning Activities
Grasshopper Crafts and Learning Activities
Bug Buddies Studies Home School File Folder Lessons
Butterfly, Caterpillar, and Inchworm Crafts for Kids


Crafts and Activity Ideas for Bug Birthday Party

Bug Birthday Party Games

Buggy Food for Bug Birthday Party

Bug Invitations

Bug Decorations

Bug Party Favor Ideas
How to Make Butterfly, Caterpillar, and Inchworm Crafts Including:

Origami Easter Egg Butterflies, Butterfly Window Clings, Paper Plate Fluttering Butterfly, Fan-folded Butterfly Paper Craft, Caterpillar Sock Puppet, Inchworm or Caterpillar on a Leaf, Inchworm Bookmark, Caterpillar or Inchworm Math, "Gerber" the Caterpillar, Inchworm Picture, Buggy Salad, Craft Spoon Butterflies, Coffee Filter Butterflies.
C- Crafts
How to Make Camp Crafts Including:

"Camp Rocks" Paperweight Craft, Worry Cans, Sea Shell Paper Weight, Leaf and Flower Print Bandanna Craft.

Coupon Organizer Made from Recycled Cards
How to Make Cat Crafts Including:

Hanging Around Paper Plate Cat, "I Love the USA" Coloring Sheet, 3D Paper Cats, Mother and Kitten 3D Paper Craft, No-Sew Sock Cat, Cat Place Mats.
How to make a Cat in the Hat Bottle Craft using a 2-liter soda bottle, craft foam, acrylic paint, and Styrofoam cup for the hat.

How to make the Grinch who stole Christmas from a milk jug.

How to make The Lorax Crafts including: A Lorax from paper cups, The Lorax Peanut Display, and Truffala Trees

How to Make Crafts used Recycled Cereal Boxes

How to Make Christmas Crafts Including:

Christmas Owl Gift Bag, Star Paper Christmas Garland, Paper Plate Reindeer Card Holder, Foam Elf, Wet-felted Christmas Ornaments, Christmas Dog Treat Gift Bags, Decoupage Papier Mache Ornaments, Craft Stick Christmas Star Ornaments, Peppermint Candy Frame, Pipe Cleaner Christmas Tree, CD Christmas Ornament, Paper Towel Poinsettia, Gift Bags.
How to Make Christmas Crafts Including:

Reindeer crafts, Christmas Light Pins, Sock Snowman, 3D paper Christmas Tree Crafts, Cardinal Bell Ornament, Nativity Scene, Christmas Butterfly Ornaments, Angel Crafts, Nativity Cross, Elf Craft, Bible Scroll Ornament, Jesus in the Manger Craft, Snowmen Crafts, Reindeer Treat Cup, Marshmallow Reindeer Craft, Isaiah 7:14 Bible Scroll Craft, Heart Christmas Tree with Poem Craft, and Feather Christmas Tree Craft.
How to Make Christmas Crafts Including:

Sock Reindeer Craft, Santa's Boots Christmas Ornament Craft, Reindeer Christmas Gift Bag Craft, Owl and Bedspring Craft, Felted Owl Craft, The Grinch Milk Jug Christmas Craft, Christmas Tree for Wild Animals, Charlie Brown Christmas Tree and Snoopy Sock Doll, Wooden Christmas Peace Banner Craft, Wire Wrapped Tile Christmas Ornaments, and Christmas Card Refrigerator Magnets as Gift Bags, The Grinch Milk Jug Craft, Christmas Treats for Wild Animals, Charlie Brown Christmas Tree and Snoopy, Christmas Peace Banner, Wire Wrapped Tile Ornament, and Christmas Card Refrigerator Magnets.
How to Make Christmas Crafts Including:

Bed Spring Christmas Tree Craft

Puzzle Piece Christmas Ornament

"Shine" Printable Reindeer Writing Activity

Reindeer Christmas List

Printable Reindeer Cards

Reindeer Star Christmas Poster for Bulletin Board Display, Paper Star Garland, Snowman Christmas Ornament Craft, Paper Bag Christmas Ornament, Paper Star Christmas Tree Craft, and Pine cone Christmas Tree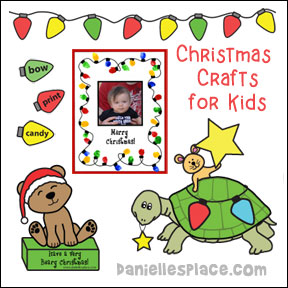 Turtle Christmas Tree Coloring Sheets

Christmas Lights Bulletin Board Printouts

Christmas Lights Review Cards

Christmas Light Review Games



How to Make Christmas - Bible Crafts Including:

A Baby Jesus in the Manger Sock Craft, Jesus Lights Up My Life Christmas Pin, Necklace, and Picture Frame, 3D Paper Ornament, Shrinky Dink Ornament, Craft Stick Nativity Scene, Jesus, God's Gift Activity Sheet, Paper Angel Ornament, Christmas Plays, and Shepherd Puppets, Matchbox Gift Boxes.
See also Winter Crafts
How to Make Clay Crafts Including:

A Dog Key Chain Clay Craft, Christmas Ornaments, Polymer Clay Mini-book Craft, Clay Love, Peace, Joy Owl Ornaments, Clay Star Ornaments, Clay Gift Tags.
Fun, nutritious recipes, craft recipes for play dough, and other fun recipes including: Veggie Tale Cookies, Elmo Biscuits, Bug Salad, Raven Cookies.
How to make Colonial Crafts including: A Colonial print shop, Quill/ Pen, Dip Candles, and Soap.
How to make Cow Crafts including: A Cow sock beanbag craft, Cow paper bag puppet, good children's books about cows, and The Cow Jumped Over the Moon" Paper Plate Craft
How to Make Crafts with Craft Foam Including: See Craft Foam Crafts
How to Make Crafts with Craft Sticks Including:

A "Jesus Washes My Sins Away" Wall Hanging, Glow in the Dark Creatures, "But as for me and my House, Craft Stick Wall Hanging, craft stick snowflakes, and Craft Stick Plant Stakes.
Creativity - Crafts and Activities Relating to Art and Creativity
Crafts and Activities to Inspire Creativity including links to creative web sites, links to children's books about art and creativity with suggested activities to go along with the books.

The Elements of Design
| | |
| --- | --- |
| | |
| Point and Dot - This Bible-based Art Lesson Includes: Pointillism, George Seurat, Aboriginal Dot Painting, and Recommended Books About Points and Dots | Line - This Art Lesson Includes: Wassily Kandinsky's Drayon Drawings, Paul Klee, Symbolism in Art, Aboriginal Artist Ronnie Tjampitjinpa's line and Symbol Paintings, Illustrator and Author Ed Emberley's Thumbprint Art, and Illustrator and Author Patrick McDonnell's Books and Printable Books About Line |
| | |
| | |
| Shape - This Bible-based Art Lesson Includes: Jean Arp's Collage Arranged According to the Laws of Chance, Organic and Abstract Shapes, Printmaking Techniques - Positive and Negative Shapes | Color - This Bible-based Art Lesson Includes: Georgia O'Keefe, Claude Monet, Impressionism, Color Wheel, Colorful Owl Puppets, and Great Books about Color |
| | |
| Value - This Bible-based Art Lesson Includes: Study of Rembrandt's "Christ in the Storm on the Lake of Galilee", Chiaroscuro Drawing using one Light and one Dark Colored Pencil, Identifying Values using a Grayscale Ruler, Identifying High and Low Contrast Images, Using Dots for Shading, Using Tints and Shades to Make a Make Values, and Silhouettes | |
How to make crafts from paper and Styrofoam Cups Including: Paper Cup Bible Characters Paper Cup owl, Paper Cup Puppets, and many more.
| | |
| --- | --- |
| Crafts Index Page 2 - | |
| Crafts Index Page 3 - | IJ K LM |
| Crafts Index Page 4 - | N O P R |
| Crafts Index Page 5 - | S T U V W |
Links to Other Great Craft Sites
MakingFriends.com - Lot's of great crafts for kids, especially for scouts.

EnchantedLearning.com - This is a great learning crafts web site. It has lots of printable worksheets.

MSSS Crafts -You will find lots of original craft ideas here. This site also has hundreds of links to crafts and activity ideas for hundreds of Bible stories.

ChristianCrafts.net - Free Craft ideas for Sunday School, Vacation Bible School and Homeschoolers including printable patterns.

Christian Crafters - Great Sunday school and VBS craft projects. Also has a showcase of beautiful wood pieces for sale and a wonderful book for sale on how to make snowflakes with Christian symbols in them.

My Kids Craft - Craft for all ages with easy-to-follow instructions.