Reptile Crafts and Learning Activities for Kids
How to Make Reptile Crafts and Learning Activities
Gecko Bubble Wrap Craft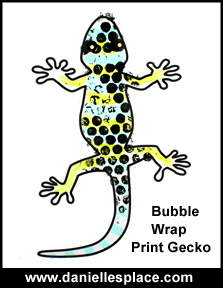 What you will need:
Paper
Acrylic Paint
One-inch Paint Brush
Small-bubble Bubble Wrap
Permanent Marker
Scissors
What to do:
1. Draw a picture of a large lizard. (A Printable Lizard Pattern is available to members.)
Member's

2. After drawing the picture place some bubble wrap over the lizard picture so that the bubble side of the wrap is on the paper and it covers the lizard completely.
3. Trace the lizard with a permanent marker on the bubble wrap.
4. Turn the bubble wrap over and paint over the bubble wrap where you traced the pattern. Turn the bubble wrap over and press the bubble wrap onto the picture matching up your traced lines. Slowly peel off the bubble wrap.
©2012, Digital by Design, Inc. - See Copyright Information
Reptile Crafts on Other Pages