The Lord is My Shepherd - Psalm 23:1
Free Sunday School Sample Lesson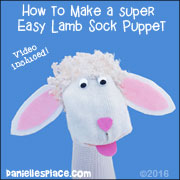 This series of lessons contains six lessons, one for each verse of Psalms 23. These lessons are designed for children, preschool through first grade. A sheep puppet introduces each lesson. The puppet doesn't actually say anything so the puppet skits are very easy to perform. The puppet shakes its head yes and no and also brings things to class that helps to explain the concept to be learned for each verse.
The Sheep Puppet
you use should be able to open and close it's mouth so that it can hold things or use it's hands.
You can make your own sheep puppet from a white sock. Go to the Puppet Craft Page for directions. You can buy a Lamb Chop Puppet
or similar Puppet
from Amazon.com.
Each lesson contains a printable Bible verse card to send home with your children. You can also use the Bible verse memorization chart (Available to Members Only.) to keep track of each child's progress in memorizing the verses.
Printable stickers relating to each story are available to place next to each verse as the children memorize them. These stickers are available in color or in black and white.
You can print them out on sticker paper, or cut the stickers apart and use an inexpensive sticker making machine to make the stickers. Or you can just glue the stickers on to the chart. (I bought the Xyron 150 "X" Dispenser Sticker Maker at Wal-Mart for less than $10.00.) Click on the links below to print out the files you need:
Bible Reference:
Psalm 23:1
Printable Bible Verse Cards:
Print out onto card stock, write the Bible verse on the cards and make copies. (Available to Members Only)
Teaching Concept:
God loves us and gives us everything we need. He is like a good shepherd who takes care of his sheep.
© 2004, Digital by Design, Inc. - See Copyright Information
Early Arrivals Activity
1. Psalm 23: 1 - "I Shall Not Want" Sheep Picture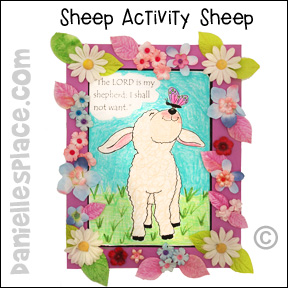 What you will need:
White paper and different colors of paper for the frame
Crayons
Glue
Silk Flowers
(You can find silk flowers at your local thrift store. Be sure to remove all the plastic parts leaving on the silk part. Wal-Mart also sells flower parts and pieces that have fallen off of their silk flowers in bags for a discounted price. Look were they sell remnants of fabric.
Foam Flower Stickers
How to Make the Sheep Picture:
1. Before class print out the sheep pattern and make copies. If you would like to use another color for the frame, use one picture to make a frame pattern. Cut the sheep picture out of the middle and use the left over to trace the frame onto colored sheets of paper. If you don't want to do this, you can just have the children color the frame before they start gluing on flowers. (Printing Problems?)
2. Glue the frame over the sheep picture.
3. In class have you children color the sheep picture and then glue the silk flowers on.
2. The Lord is My Shepherd Coloring Sheet
This Picture is the same as the one above except that it already has a border. Use this one if you prefer the children to just color. (Printing Problems?)
3. Color a "The Lord is My Shepherd" Bookmark
Print out the bookmarks onto cardstock (Thick paper) and cut them apart. Have your children color them. Use these bookmarks in an activity listed below. (Printing Problems?)
© 2004, Digital by Design, Inc. - See Copyright Information
The Lesson
Preparation: Draw a picture of sheep in a green pasture, with a lake or stream, some shade trees, and a shepherd. It doesn't have to look good. It should look like a child drew it.
Woolie Draws a Picture
Teacher:Good morning class. I have a very special guest I would like you to meet. (Pull out your sheep puppet.) Class, this is Woolie.
Sheep: Baa, baa.
Teacher: Woolie says, "Hello, It is nice to meet you."
Sheep: (Pulls out a picture and holds it up in her mouth or with her hands.)
Teacher: Oh, Woolie, that is a lovely picture. Did you make that yourself?
Sheep: (Woolie shakes her head yes and says, "Baa.")
Teacher: Is this a picture of you, Woolie?
Sheep: (Woolie shakes her head yes and points with her nose (or hands) at a sheep in the picture.)
Teacher: Oh, that does look like you. I see that you drew a lot of green plants. You must live in a very pretty place with lots of good stuff to eat?
Sheep: (Woolie shakes her head yes and says, "Baa.")
Teacher: Oh, and the trees are very big and green. They must be a great place to go when it gets really hot. They can protect you from the hot sun.
Sheep: (Woolie shakes her head yes and says, "Baa.")
Teacher: And I see that you have a nice cool stream to drink from?
Sheep: (Woolie shakes her head yes and says, "Baa.")
Teacher: Is this a picture of the Good Shepherd? He looks very nice. He must do a very good job of protecting you, and making sure you have everything you need?
Sheep: (Woolie shakes her head yes and says, "Baa.")
Teacher: You know, the Bible tells us that God is a lot like a shepherd. David wrote a psalm or song that talks about how God is like a shepherd. He said that God is his shepherd because he gives him everything he needs. (Open your Bible to Psalm 23:1 and read the verse.) "I shall not want" means that we have everything we need. God is watching over us like a shepherd watches over his sheep. He keeps us safe, makes sure we have enough to eat, and a place to live. He takes care of all our needs. Woolie, thanks for coming to visit us this morning. I hope you come back next week.
Sheep: (Woolie waves goodbye.)
© 2004, Digital by Design, Inc. - See Copyright Information
Prayer
Father, We thank your for providing for all our needs and for watching over us and protecting us just a like a good shepherd watches over his sheep. Amen
Crafts
Make a Sheep Paper Bag Puppet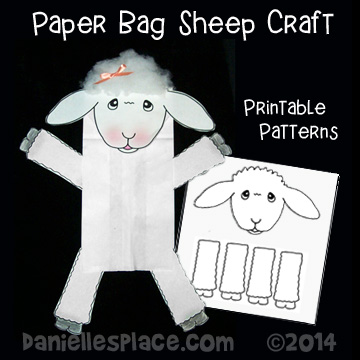 What you will need:
White paper lunch bags
Card Stock (Heavy Paper)
Cotton Balls or Fiberfill
How to make:
1. Print out the sheep head pattern and the feet patterns. There are six feet per sheet so you won't need to print out as many feet patterns. (Printing Problems?)
2. If you have young children cut out the patterns before class. To make cutting faster staple several sheets together so that they match up and cut them out all together. When cutting out the feet don't worry about cutting around each bump and indent, just cut them straight.
3. Fold in the two corners of the bottom of the bag that will be the bottom of the sheep's head and glue them down.
4. In class have the children glue the head on the bottom of the bag and the feet on the inside fold of the bag. Also have them glue on some fiberfill or cotton balls and a bow on the head.
© 2004, Digital by Design, Inc. - See Copyright Information
Make "The Lord is My Shepherd" Display
What you will need: Cardstock (Heavy paper), highlighter markers (I like these because they are very easy to color with and no matter where they color you can still see the picture), glue, one inch white pompom balls, green felt, and brown or white pipe cleaners
How to make:
1. Before class print out the display box pattern onto cardstock and cut them out on the solid lines. Print out the sheep's head pattern onto cardstock and cut them out. Cut green pieces of felt into 3" x 2 1/2" pieces. (Printing Problems?)
2. Cut your pipe cleaners into one inch pieces and fold them in half. Glue them onto the sheep's body with the pointy ends of the pipe cleaners sticking into the body.
2. In class have your children color the display boxes and then glue them together for them.
3. To assemble the box fold the top square #1 that has the saying on it to the back away from you at the dotted line.
4. Fold all the dotted lines on the side flaps down or away from you. Fold the two side flaps down away from you. Fold square #2 back away from you.
5. Fold the last 2 dotted lines back away from you.
6. Turn the box over so that you can read the words on square #1.
7. Glue the top tabs of the side flaps to square #2 and then glue square #1 down to square #2 to cover the tabs.
8. Glue the bottom tabs of the side flaps to square #4. Fold square #5 up over square #4 and glue it down to cover the tabs.
9. Give each child a sheep body with the legs glued on and a sheep head. Let them glue the head onto the sheep. (You may want to prepare the sheep before class because they will want to play with the sheep and you will probably have to keep gluing the heads on.)
10. Give them each a piece of green felt to glue inside the bottom of the display for grass.
© 2004, Digital by Design, Inc. - See Copyright Information
Activities
1. Review the Bible Verse
Show the children were Psalm 23 is in their Bible. Tell them that it is located just about in the middle of the Bible. Close your Bible and let the children try to open it to the 23rd Psalm. Place a sheep bookmark in your Bible at the 23rd Psalm.
2. Make Fluffy Sheep
Before class make small round pancakes. In class show your children how to sift powdered sugar on top of them to make them white. Add chocolate chips eyes, a raisin nose, marshmallows ears, and a licorice string mouth. Instead of pancakes you can cut pieces of bread into round shapes, toast it, spread on butter, and then sift on the powdered sugar. Sent in by Nancy Foss
3. Draw a Sheep Game

Before class print out the picture of the sheep and the sheep parts page. In class give each child a piece of paper and a pencil. Have them take turns throwing a Foam Jumbo Playing Die
.
If they roll a one, they get to draw the sheep's body. If they roll a two, they draw the sheep's ear, etc. The sheep parts page tells which part the child should draw according to which number they roll. If they roll a number that they already rolled, they don't draw anything on that turn. The child who draws the completed sheep first wins.
If you have a lot of children in your class break them up into two teams. Place a big sheets of paper on the wall for each team and have each team work on drawing a sheep. If you have very young children, instead of having them draw the parts, cut out sheep parts before class and just have them tape the sheep parts up on the wall. Sent in by Nancy Foss (Printing Problems?)
4. Play "Pin the Tail on The Sheep"
Play just like "Pin the Tail on the Donkey" except use a sheep.
5. Woolie Sheep
Provide shower scrunchies or sponge balls and white paint for the children. Show them how to dip the ball into the paint and press it onto their paper (Use a dark colored construction paper.) to make the sheep's body and head. (Use a smaller ball for the head.) Let the paint dry and show them how to add eyes, nose, and legs to complete the picture. Sent in by Nancy Foss
6. "Play "Dress the Sheep"
Before class draw a picture of a sheep on a large piece of paper. In class have the children take turns telling something that God gives us or how he takes care of us and then have them roll the die. The child gets to glue that many cotton balls onto the sheep picture. Keep playing until the sheep is completely dressed. You can also have the child say the Bible verse before he rolls the die.
7. Sheep Snack
Full sized marshmallows are a hazard for children so when a snack calls for that item try substituting donut holes for the marshmallows. Cute sheep can be made with a donut hole body, pretzel stick legs, and mini-marshmallow head attached with a broken pretzel stick. Sent in by Dian Dodson, Missoula, MT.
© 2004, Digital by Design, Inc. - See Copyright Information
Songs
God Loves Us
Written by Nancy Foss
(Sing to the tune of Jingle Bells)
God loves us, God loves us,
And gives us everything.
Stand up and shout and clap your hands.
God loves us today, hey.
© 2004, Digital by Design, Inc. - See Copyright Information
More Psalm 23 Sunday School Lessons
This is the first lesson in the series of lessons on the 23rd Psalm. Follow the links below to find out about the rest of the lessons in this series:
Psalm 23:2 - "He Makes Me Lie Down in Green Pastures"
Psalm 23:3 - "He Leads Me" Sunday Day School Lesson
Psalm 23:4 - "I Will Fear No Evil" Bible Lesson for Kids
Psalm 23:5 - "I am Special" Bible Lesson
Psalm 23:6 - "Goodness and Mercy" Lesson

---
Copyright © 2004 Digital by Design Inc.
Contributing writer Nancy Foss
Danielle's Place of Crafts and Activities
http://www.daniellesplace.com
All rights reserved. No part of this publication may be reproduced or transmitted in any form or by any means, electronic or mechanical, including photocopying and recording, or by any information or storage retrieval system, except for local church or school use only. You may not copy this lesson or any part of this lesson and place it on another web site even if you include the copyright notice. This copyright notice must be included on all printed copies. Requests for permission to copy this material for any other uses should be addressed to Carolyn Warvel, 588 Duran Street, Henderson, NV 89015 or e-mail me at care@daniellesplace.com
Comments
We would love to hear your comments about this lesson. If you taught this lesson, we would love to hear how it went, if you changed anything, added anything, what age you taught and was it appropriate. Any comments that would help others teach this lesson are welcome.
These lessons your doing on Psalm 23 are wonderful! I used the paper bag sheep in class on Sunday and the children loved it. Good job! I am looking forward to the rest of the lessons on this series. Thanks for doing them! Sharon
I started the first lesson on the series Psalm 23. The kids really seemed interested the whole time. They especially enjoyed drawing the sheep game. I copied the memory sheet and they are going to learn a verse a week. I told them at the end if they can say all of the verses I will give them one of the little lamb puppets. Thanks for all of your great work! Love ya, Barb
I have been using the 23 Psalm lessons in my children's church for ages 2 to 4 year olds. They have loved the puppet lamb, Woolie. I didn't want to take the time to make one, so I bought a small stuffed lamb at the dollar tree and then cut the bottom open and pulled the stuffing out. It works great. Some of the crafts are a little to much for the children because of their age, but they loved the paper bag puppets. The first lesson game of "Dress The Lamb" was a major hit. I took 8 x 11 foam sheets in different colors and cut them down to 8" x 8" and hot glued them together with polyfill inside to make a large dice. I used a black Sharpy marker to draw the dots for counting. I let the children take turns telling me something their shepherd had done to take care of them, then I let them toss the dice to see how many cotton balls they got to tape to the lamb. (I had them count the dots so they got a little math too.) They had so much fun that their parents had a hard time getting them to leave church that morning. Thanks for the lessons. Your sight has been my best source by far. Lisa
We used the first lesson with the sock puppet. We made him with construction paper instead of felt. It worked just as well; and I had it on hand. The kids in my class are age 5-7. They love Woolie; and they loved making the puppet out of the lunch bag too. They have memorized the first part of the verse: "The Lord is my Shepherd I shall not want". I am so proud of them, I can't express how much. Sherry
I made Woolie out of one of my husbands socks (The other was eaten by the washer, he said.) and added cotton balls all over to make him look woolie. My kids ages from 4 to 12 really like Woolie. I let the 4 year old play Woolie and he (down's child) loves his lamb. The kids really loved the lesson and I was surprised how many of the older children knew Psalms 23. Nancy Vance
We are studying Psalm 23 in our Super Sundays. Super Sundays are our once-a-month combined classes with all age groups together (toddlers to 12 years old for a total of about 20 children). We did the first lesson today. We had a wonderful learning time. Thank you so much for sharing your lessons! We used the puppet show, I Shall Not Want Sheep Pictures (younger kids), The Lord is My Shepherd Displays (older kids), Pin the Tail on the Sheep game (younger kids), and the Draw the Sheep game (older kids).
I wanted to let you know about a couple of other things we did:
(1) I asked one of the older kids to play Woolie and will have a different older student help with this each Super Sunday. The younger kids enjoyed Woolie and the puppet show, and the older kids look forward to being puppeteers!
(2) I asked a church member to dress up like a shepherd and talk to the children about what a good shepherd is like and what sheep are like. I gave him the info you have listed in your Good Shepherd lesson, and he did some further research on the Internet as well. He played the role well, and the children asked him lots of questions. Before the shepherd came in, we made a list on the white board of all the children knew about shepherds and sheep. After the shepherd's talk, I asked the children what we could add to the list. It was wonderful to see the list grow because of the shepherd's talk!
(3) For the older children, I made a sequence game for the verses of the entire Psalm. I printed a verse per card for a total of 6 cards in each set. I ided the children into pairs or trios and showed them how to locate Psalm 23 in the Bible. Then we had a race to find Psalm 23 in our Bibles and put the verses in order. After doing this a couple of times, some of the groups were able to put the verses in order without looking in their Bibles! I've made up a second set of cards with phrases rather than complete verses to make it more challenging next time. Thank you again for your lessons, Rebecca
I really like your site! And today I used some of your Lost Sheep lesson with a few extra things that I would like to share. I sat my two to five year olds down, 15 today, and we talked about what shepherds do. I told them they were going to be shepherds today and they needed to find their sheep that were out in the fields. Every shepherd went searching for 2 sheep. Then they met back on our carpet-the pen. We sang a song to tune of "Frère Jacques".
Where are my sheep? Where are my sheep? (Children hide two sheep behind their backs. I gave them two sheep pictures from a small notepad of printed sheep.)
Here we are. Here we are, (Children bring the sheep forward one by one.)
I love you little sheep. We love you shepherd. (Act like you talk to sheep and then they talk back.)
Now run away, run and play (Make them go behind your back again.)
Then we read the "Peek a Boo Lost Sheep" book you recommended and I added some ad lib to make it a bit more dramatic as I read it. Then we woke up the sheep that slept in the pen overnight while we read the book. We talked about where sheep sleep at night and why. Then we talked about what the sheep needed this morning for their rumbling tummies. They went to find some grass. I laid down green felt pieces and used blue felt for water. I told them that the sheep had been feeding and drinking all day and the sun was going down. I asked them "Where does the shepherd take them now?" Back to the pen we go.
We talked about how we are so loved by Jesus and then went over our Bible verse, John 15:9. F or snack we ate shepherds, "teddy grahams" and sheep "marshmallows". Their napkin was the pen. Later we did the sheep craft; they glued on cotton balls and flowers to their page after coloring it. I put the Memory Verse on the bottom of the coloring page. We had a great time and parents were very pleased with the excitement of the children as they told what they did today! It was our first time leading Wee Worship so some of the children didn't know us. But the fun of the lesson got them over their fears and they were soon all smiles! Thanks for all the neat ideas! Lara