Samson Crafts and Bible Lesson
Bible Crafts and Games for Samson Sunday School Lesson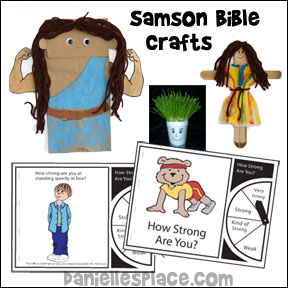 The following ideas about Samson come from the Sunday School lesson "How Strong are You?". The Complete Lesson with printable patterns are available to members on The Resource Room for $23.95 per year and as an instant download.
This lesson is also available as an instant download for $2.95 It includes all the crafts and activities on this page and more:
Samson Paper Bag Puppet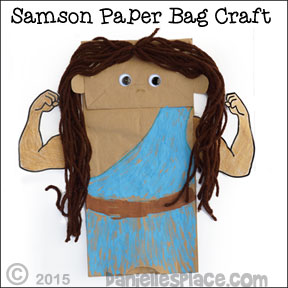 What you will need:
Paper Lunch Bags
White Paper, or Tan Paper to Match the Paper Bag
Yarn
Scissors
Magic Markers or Crayons
Glue of Double-sided Tape
Wiggle Eyes
How to Make the Paper Bag Samson Puppet:
1. Before class print out the strong arm patterns and make copies. If you have younger children, cut out the arms. (The arm patterns are available to Members or as an Instant Download above.)
2. In class have your children color the arm patterns and glue them to the side of the bag.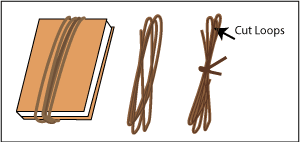 3. Wind yarn around a book about five times and then pull it off and tie it together in the center. Cut the ends. Have your children glue or tape the hair to the puppet.
4. To finish have them draw on clothes and wiggle eyes.
©2015, Digital by Design, Inc. - See Copyright Information
Samson Craft Stick Puppet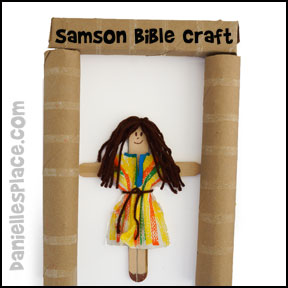 What you will need:
Strong Paper Towels or White Cotton Fabric
Scissors
Magic Markers
Yarn
Low Temp. Glue Gun
Paper Towel Tubes
How to Make the Craft Stick Samson Puppet:
1. Before class glue the jumbo craft stick and the extra jumbo craft stick together in the shape of a cross.
2. Print out the coat pattern. (The coat pattern is available to Members or as an Instant Download Above.)
3. In class have your children cut six inch lengths of yarn and tie them together in the middle with another piece of yarn, and then glue it to the head of the puppet to make the hair.
4. Give your children the clothes patterns and have them cut the pattern from the material or paper towels. If you have younger children pre-cut the clothes and just have them decorate it with markers.
5. Show your children how to lip the clothes pattern over the craft stick, gather it at the waist and then tie it with a piece of yarn.
6. Make columns out of paper towel tubes and loosely connect them at the top with another paper towel tube that has been folded into a rectangle shape. Have your children use the columns to act out the story of Samson when he knocked over the building.
©2015, Digital by Design, Inc. - See Copyright Information
Make a Hairy Samson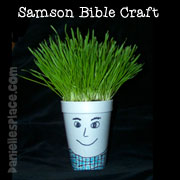 (Prepare a sample craft at least two weeks before the lesson so the grass has a chance to grow.)
What you will need: Paper Cup, Fast Germinating Grass Seeds or Sprouting Seeds, Dirt, and Permanent Markers
How to make:
1. Have your children draw a face on one side of the cup and write the Bible verse on the other, and then fill the cup with dirt.
2. Have them sprinkle grass seed on top and water. Place a piece of plaster wrap over the top and secure with a rubber band.
3. Tell them watch Samson's hair start to grow in a few days.
Make a "How Strong Are You? Book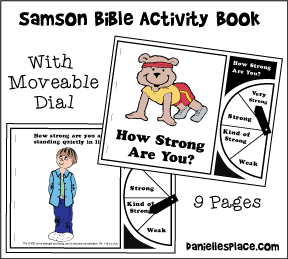 This book teaches children that God not only gives us physical strength, but can give us strength to do what is right.
Children color the pictures in the book and then draw arrows on the "weak to very strong" gage on the right side of the paper in the appropriate area depending on how strong or weak they feel they are at doing the specific task on that page.
The book can also be assembled so that there is only one gage on the back page and the arrow is moveable. (Book pages are available to Members or as an Instant Download Above.)
Illustrate the Story Using a Demonstration
You will need empty aluminum soda pop cans. Show your children an empty pop can, place it on the floor, and put your foot on it and balance your weight over it while holding onto the back of a chair. Let your children step on it and try to balance their weight on it also. Comment on how strong the can is.
Tell the children that Samson didn't always do what he was supposed to do. He did a bad thing when he wanted to please Delilah more than God. God cannot be around sin, and didn't help him to be strong when the bad men came and put him in prison. Putting a dent in this can is like letting sin into your life. (Place a dent in the can.) Now what do you think will happen if I try to step on this can? (Show your children how the can cannot hold your weight any longer.) This is what sin does to our lives, and what it did to Samson's life. But remember, when we ask God to forgive us, he takes away our sins and it is like we have no more dents. (Show your children a new can.) God makes us strong again. (Let your children try the demonstration on other cans.) (This idea was sent in by Narita Roady.)
You will find even more activities relating to Samson on The Resource Room.
©2004, Digital by Design, Inc. - See Copyright Information