Bible Crafts and Activities for Kids
Bible Lesson Ideas, Crafts and Activities
for Bible Theme Obey
Obey
"Obey Your Parents in the Lord" Sunday School Lesson
Sunday School Lesson for Children - The following crafts and activities come from "Obey Your Parents in the Lord" Sunday school lesson on The Resource Room.

Bible Verse: "Children, obey your parents, in the Lord: for this is right." Eph. 6:1
Scripture Reference: Luke 2:44- 52
Obey Your Parents Sunday School Crafts and Activities
1. Play Stack the "Os" Bible Verse Review Games

What you will need: Five feet foam tube pool toys, (I bought one for $1.00 at K-Mart. You can make five sets of verses from each tube.), skinny masking tape, serrated knife, ruler, permanent marker, and scissors.

How to make the Stacking Toy:

1. Using a ruler mark off one- inch segments on the foam tube.

2. Print the Bible verse, "Children, obey your parents, in the Lord: for this is right." on the masking tape, separating each word by a half an inch. Cut the words apart and stick them on the tube, one on top of the other as shown in the picture. Cut the words apart with the knife and place each set of verses in a separate bag. Mix up the sections. You can just write the words on the foam with a Sharpie marker, but if you use tape, you can reuse the shapes for another lesson.

3. In class give each child a set of words. Instruct your children to try to stack the words in order to form the Bible verse from bottom to top. If they are having a hard time, you can give them clues such as, The first word starts with a capital letter and the last word ends in a period.

4. Stack the "Os" Lesson Review Game - Place all the "Os" in the middle of the table and divide your children up into teams of two. Take turns asking teams questions from the lesson and previous lessons. If a team gets it correct, it gets to stack an "O". If it gets it wrong, the next team gets a chance to answer. The team with the highest stack wins.

This activity comes from the Bible Lesson "Obey Your Parents In the Lord" on The Resource Room where you will find a complete lesson with crafts, activities, and review games.

©2007, Digital by Design, Inc. -* See Copyright Information
What you will need: Paper, crayons or markers, and arrow labels. (You can find this in an office supplies store. If you can't find them you can just cut arrows from colored paper and tape them on.)

How to make: 1. Before class print out the Obey O-Meter Activity Sheet (or make your own) onto white paper and make copies. (This Pattern is available to members on The Resource Room.)

2. In class talk to your children about obeying. Ask them when it is hard for them obey their parents. Write something that each child would like to work on obeying during the week on each child's paper.

3. When your children's parent show up to pick them up, tell them what your children have been learning and show them the Obey O-Meter Activity Sheet. The parent should move the arrow on the paper up and down according to how well their child is obeying during the week. The children can bring their paper back the next week and share how well they obeyed with the class.

©2007, Digital by Design, Inc. -* See Copyright Information

How to Print or Copy these Instructions
Review the Bible Verse
Obey Your Parents - Have your children stack the Bible Verse "Os' in order if they haven't already done it. When the children are finished ask them what they think is the most important word in the verse. Hold up a section of the tube and show them that it is shaped like an "O". Tell them that the most important word in the verse starts with an "O". We should obey our parents.

In the Lord - Ask them what the second phrase in the Bible verse says, "In the Lord". This is an important part of the verse because some children don't have parents that are "in the Lord" or who don't follow Jesus' commands. Children should not obey their parents if what they are telling them to do is not "in the Lord". If a parent tells you to steal something or lie, you do not have to obey them. You should still act respectably towards them, but let them know why you can't obey.

For it is Right - Why should you obey your parents? Should you obey so you don't get into trouble? Should you obey so we will get our allowance? No, we should obey because it is the right thing to do even if we don't get in trouble or get paid to do it.

©2007, Digital by Design, Inc. -* See Copyright Information
Children, Obey Your Parents Poster
What you will need: Paper, colored paper, crayons or markers, and colored reinforcement labels. (You can find this in the office supplies section of any store. They are used on filler paper to reinforce the hole on the paper.)

How to make the poster:

1. Before class print out the poster pattern (or make your own) onto white paper and make copies. (This Pattern is available to members on The Resource Room.)

2. In class have your children color the picture and then glue it to a piece of construction paper.3. Then have them stick "O's" all over the picture. You can also use Cheerios or Apple Jacks cereal.

How to Print or Copy these Instructions.

©2007, Digital by Design, Inc. -* See Copyright Information
"Obey Your Parents" Paper Plate Bible Craft for Sunday School
What you will need:

Snack-sized Paper Plates

Paper

Colored Pencils

Glue

Black Sharpie Marker

How to Make the "Obey Your Parents" Paper Plate Craft:

1. Before draw black lines around th edge of the paper plates and around the center circle of the paper plate.

2. In class have your children write the Bible verse in the center of the paper plate or use the pattern from The Resource Room. (This Pattern is available to members.)

3. Have you children decorate the paper plate and then glue it to the right, bottom side of the paper and write the letters "bey" to the right of the paper plate.

4. To finish have them draw a picture and decorate the paper. (A Pattern with the picture of the children and words is available to members on The Resource Room.)
Obey Your Parents Paper Plate Toss Game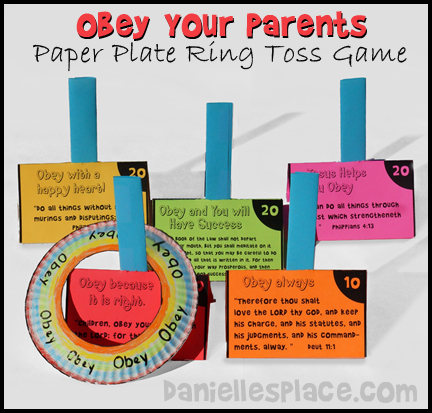 What you will need: Paper plates, scissors, card stock, and tape.

What to do:

1. Before class cut the center out of a paper plate, color it with crayons or makers, and write "obey' aroud the edge.

2. Make the Bible verse stands with paper stakes. (Printable Patterns are available to members on The Resource Room.)

3. To make the stands fold a piece of card stock in half and then fold the edge back about one inch from the ends.

4. To make the paper stakes cut a piece of card stock in half lengthways and fold it in thirds. Tape it together along the sides. Cut 1" slits at the bottom sides of each stake and fold up the edges. Cut slits at the tops of the Bible verse stands on the fold lines just long enough to insert the paper stakes. Write Bible verse about obeying on the stands. Give each stand a point value.

5. Tape the stands and the stakes to the floor in your room. Place the higher numbered point stands in the back and the lower point stakes in the front.

6. In class let your children take turns tossing the paper plate ring to try and get it on one of the stakes. If a child is successful, read the verse and discuss what it means.

If you have older children, you can break the children up into teams and keep track of the points. You can also make this a craft by having each child make their own ring.

©2014, Digital by Design, Inc. -* See Copyright Information
"Obey Your Leaders" Sunday School Lesson
Sunday School Lesson for Children - The story of Joshua becoming the leader of the Israelites.

Bible Verse: "Obey your leaders and submit to their authority." Hebrews 13:17
Scripture References: Joshua 1, 3 - 4:7

For crafts and activities for this theme go to the Bible Crafts and Activities - Joshua Page.

©2007, Digital by Design, Inc. -* See Copyright Information
"Big, Bad, Bluey the Dog" Printable Book
Big, Bad, Bluey the Dog never does what he is told. Poor Bluey has to learn why it is important to obey the hard way. Use this book to discuss with your children the importance of obeying.

Proverbs 6:20-23, "My son, keep your father's command, And do not forsake the law of your mother. Bind them continually upon your heart; Tie them around your neck. When you roam, they will lead you; When you sleep, they will keep you; And when you awake, they will speak with you. For the commandment is a lamp, And the law a light; Reproofs of instruction are the way of life,"

This book is available to members only. Go to the Printable Books Page for a pattern and directions.

Copyright 2006, Digital by Design, Inc. - See Copyright Information.
Obey Sunday School Song
Sung to the Tune of "Father Abraham"

I am going to, going to obey
Even though I don't want to.
Jesus tells me to so this I'll do,
So let's just all obey,
Right arm.

Go through the first part with each command in the song -
Left arm, Right leg, left leg, Nod your head, Jump up and down, and Turn around

Sent in by Narita Roady

How to Print or Copy these Instructions

©2007, Digital by Design, Inc. -* See Copyright Information