Bear One Another's Burdens
Bible Crafts
Crafts and Activities About Jesus Healing the Lame Man Including: Jesus Heals the Lame Man Bible Craft, Bear Paper Craft, and Bible Coloring Sheets.
Jesus Heals the Paralytic
The Following Crafts and Activities come from the Bible lesson "Bear One Another's Burdens". A complete lesson with printable crafts and activities is available to members on The Resource Room.
Jesus Heals the Paralytic Craft Stick Bible Craft for Sunday School
This craft can be used for the Sunday School lesson "Jesus Heals the Lame Man" from John 5:1-15, or Jesus Heals the Paralytic from Mark 2:1-12. Children draw a sad face on one side of a Jumbo Craft Stick and a happy face on the other. They can use the craft stick puppets to act out the story. When Jesus tells the lame man or paralytic to pick up his mat and go home children can take the craft stick out and turn it around so that the smiling face side shows. They can also fold up the mat and place it in the puppet's hand as pictured.
The Pattern for this craft is available to members only.
Galatians 6:2 - Bear Ye One Another's Burdens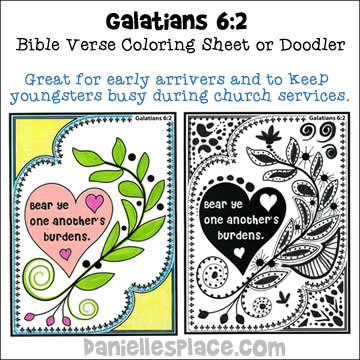 This Bible verse coloring sheet goes along with the Bible lesson "Jesus Heals the Paralytic" or Bear One Another's Burdens" available on The Resource Room.
These sheets are great for both younger children and older children. Younger children will enjoy coloring the sheets, while older children can add doodles of their own.
Coloring sheets are a great way to keep children busy while you are waiting for all the children to show up or to keep children busy during church services.
They can also be used as a aid to help children remember their Bible verses.
3D Bible Scene with house and people to go with the story.
Patterns and directions available to members.
Make a House
Bring in boxes, paper, scissors, glue, etc. and pictures of houses in Bible times.
Have your children make replicas of the house. Tell them they can use the boxes to make the house or just draw pictures of them. Children can use their house to act out the story.
©2012, Digital by Design - See Copyright Information
Make a "Bear One Anothers Burdens " Bear Paper Craft

Children will love playing with there stand-up bears. The little bear can ride on the bigger bear's back.
These Craft Patterns are available to members only on The Resource Room.
"Bear Ye One Another's Burdens" Coloring Sheet for Sunday School
As your children work on this coloring sheet talk about what it means to be one another's burdens.
Ask your children why they think the little bear might be crying and what the other bear might be doing to help little bear. Ask them how they can help their friends and family.
This Coloring Sheet is available to members only on The Resource Room.
Learn What Burdens Are
Place a wet paper towel or facial tissue so that two ends are secured between heavy objects. (Experiment before class to see how well your set up will work.) Ask the children to think of things that might be a burden to someone. When a child thinks of something, let him come up and place a quarter or some other object in the center of the wet paper towel. (Write down the suggestions as they are mentioned.) Let each child come up and place a quarter on the wet paper towel as he comes up with a burden. Keep going until the paper towel breaks or everyone has a turn. If the paper towel breaks during the activity tell the children that some burdens are so hard to bear that they can break a person. That is why it is important for us to bear each other's burdens. Start again with a new paper towel.
When every child has had a turn, go back and ask them how they can help bear the burden that they had mentioned earlier. Let them take a quarter off the paper towel after they give their ideas.
I just paid for my subscription yesterday, and I want to tell you I've already gotten my money's worth! This site is amazing! I teach 1st graders, and the text we have is very boring. I've been struggling to come up fun ideas for the kids to keep them interested, and now I have more than I could ever use in one year!! Thank you so much! I can't wait for class tonight for our lesson on the Good Samaritan. I'm not even going to be using our books tonight now that I have so many great activities planned! Keep up the great work! Kasha
Read Bear Feels Sick by Karma Wilson and Jane Chapman
Bear Feels Sick
By Karma Wilson / Margaret K McElderry Books
Bears friends come over and want to play but Bear feels achy and too sick to play. Hare finds him a warm cozy spot and mouse covers him up. His other friends all pitch in to help bear feel better.
The next day he wakes up feeling good and wants to play, but all his friends are exhausted and not feeling well. Now it is bear's turn to take care of his friends.
You may be able to find this book in your local library.
After reading the story ask your children if they can remember what some of the animals did to "bear Bear's burden".
1. Find him a warm cozy spot and try to make him more comfortable.
2. Gives him a hug.
3. Try to comfort him by reassuring him that he will be just fine.
4. Get him water.
5. Cooks him some broth.
6. Put a cool wet cloth on him to cool him down.
7. Makes sure he is covered up.
8. Helps him drink from a cup.
9. Gather herbs for him.
10. Draw pictures for him.
11. Bird brings him a flower.
12. They whisper and walk on tippy toes so they don't wake him up.
13. Sing him lullabies.
14. And keep a watch over him.
Ask your children if they have ever done any of these things to help someone who was sick. Remind your children if they can't do any of these things, they can always pray for the sick person.
You can find even more ideas for this lesson on The Resource Room.
How to Print or Copy these Instructions
©2011, Digital by Design - See Copyright Information
Thank you so much for your wonderful site. It is an excellent resource and inspiration for my Sunday school program. I find myself coming back week after week to see what you offer. What a blessing! Sincerely, Amanda Fieldhouse (grateful Sunday school teacher)
Build a Bible House to Act Out the Bible Story
This idea comes from Susan Vaughn. Construct a Bible-times house with two different sizes of large boxes. You can find them at appliance stores. Use duct tape to attach them to make a two-room home. Cut an opening between the boxes for an inside door and a window. Attach flowers and vines made from construction paper of different colors to the outside. Cover the roof with palm leaves cut from paper bags. The roof is removable. This house can be used for other lessons as well such as lessons on how to be friends.
Make a Sod House
I divided the children into groups of four and gave each group a copy paper box with a lid. The children painted the boxes with tan tempera paint and then sprinkled the wet paint with sand to give the house a sandstone appearance. The next Sunday we created construction paper windows, doors, and a staircase and glued them to the box. After the children left, my faithful helper and I wired the upturned lid to the bottom of the box. When the children returned on the third week, they filled the lid with potting soil and sowed grass seed. By the next Sunday, seeds had sprouted and the little houses truly appeared to have a sod roof. *Note-Make sure that the grass is watered a time or two during the week. Connie Melloway
Thank you so much for your work! I just want to let you know how blessed I am to have found your website, and how blessed you are with such great talent and for the generosity in sharing it with all of the rest of us. We have been struggling with different curriculums and none touched me until I stumbled onto "Danielle's Place". It is worth every penny and then some. I have been teaching Sunday School, almost non-stop, since I was 16 years old. That means about 23 years! I have used many different methods, curriculums, made my own, etc. but I think this website is my favorite! I have been telling everyone I know about it. Thank you again, and may God bless you all and your families in your endeavors. You are truly wonderful! In Christian Love, Mrs. Hart
Thank you for this web site. This is a real positive web site that really does offer fun ideas. I believe learning should be fun because sometimes Bible truths can be interesting!!!!! to teach to small children. Your format allows teachers a great resource; there are times when we need fresh ideas. Sometimes all we need is inspiration and encouragement . Thank you also for the input of other teachers. This site is truly a positive way to hear and share with others. God Bless you as you continue to spread the God's word thru crafts, stories and fun games. Joanne