Vacation Bible School (VBS) 2016 Crafts and Activities
Craft and Activity Recommendations for a Fun Vacation Bible School
Great Crafts for Any VBS
Foil Cross Craft

Cheap and easy to make, Foil Tape Cross Crafts make a great VBS activity. A 50 yard roll of foil tape will make 144 crosses. One cross costs less than 35 cents!.
Have children write their names on the cross to remind them that Jesus died for them.
Note - Children will want to make more than one of these so make lots of extras.
Make up lots of samples and so children picrture of different designs they may want to incorporate into thier own design.
Go to the Cross Crafts Page for directions and a supply list for this craft.
(This craft is appropiate for children first through fifth grade.)
Watch a "View it and Do it" video on how to make this craft:
---
Vacation Bible School Craft Supplies
Giveaway- 2016!
Learn how you could win the craft supplies for the foil tape crosses for your VBS in our VBS Craft Supply Giveaway! Go to the Giveaways Page for more information.
---
Bible Verse Folding Craft Sticks Canvas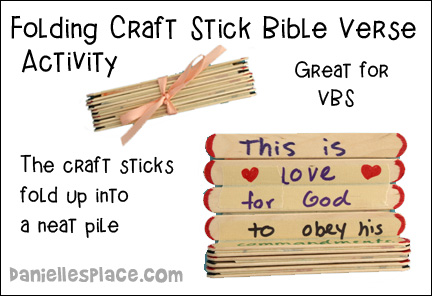 These folding craft stick canvases can be used for many different purposes. The stick canvas folds up into a compact pile of sticks and unfolds again to reveal the art work.
Children of all ages will enjoy working with these. Younger children can use markers to draw pictures of what they are learning about. They can make gifts with special messages to give to their neighbors and friends.
Older children can write Bible verses and decorate the canvases with permanent markers. These would make great gifts for prison ministry or shut-ins.
The craft stick canvases are very cheap and easy to make, but do take some preparation. I would suggest that they are taped together by adults before class. Children will have difficulty taping them correctly and lining up the sticks so they are straight. Go to the Books of the Bible Craft Page for directions.
©2012, Digital by Design, Inc. -*See Copyright Information
Watch our "View it and Do it Craft" video on how to make the folding craft stick canvases.
No-Tape, Folding Craft Stick Bible Verse VBS Activity
Here's another version of the folding craft stick card, but this one takes a little less perparation and is a little cheaper. Prepare the canvases before your VBS because the glue takes about half an hour to an hour to dry, and you need to use a X-acto knife or box cutter to cut between the craft sticks. Each craft takes only 7 mini-jumbo craft sticks, a sheet of cardstock, ribbon, and markers.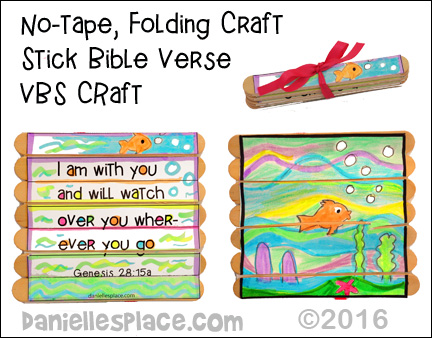 Watch a "View it and Do it Craft!" Video that shows how to make this craft below. You can also go to the Father's Day Craft Page for complete directions.
One-Paper Kite Craft and Activity for VBS
Lift Jesus higher with these easy-to-fly kites. They are super easy, cheap, and creative. U Children of all ages will enjoy designing their own kites and trying to get their kites to fly the highest.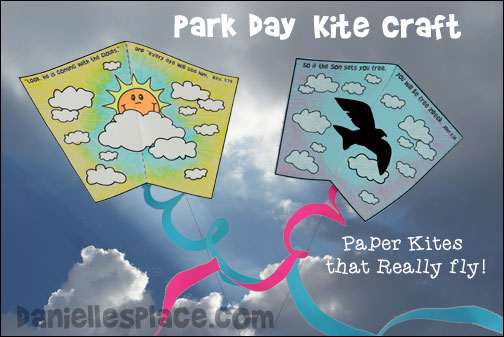 Go to the Spring Crafts for Kids Page for directions, printable patterns, and a "View it and Do it" Craft Video.
Under the Sea, Ocean or Beach-themed VBS Crafts
Paper Cup Fish Puppets or Toys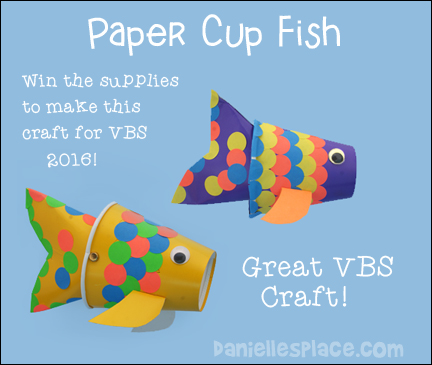 Paper cup fish puppets make great crafts for preschool and kindergarten children. Not only are is there no mess, but they are cheap and to make. Young children love using stickers to decorate things, and they will love playing with the finished puppets because they can move the tail up and down to make the fish look like they are swimming. Go to the Under the Sea Crafts Page for directions and a "View it and Do it! Craft Video.
Vacation Bible School Craft Supplies
Giveaway 2 - 2016!
You could win the craft supplies for the fish cup craft for your VBS! Go to our Giveaway Page to find out more about our Giveaways.
Fish Craft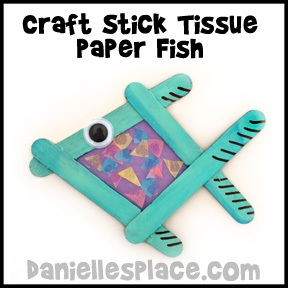 Craft Stick Fish make great Vacation Bible School crafts because they cost only pennies to make, allow room for creativity, and can be adapted to many age levels. Pre-assemble them for preschool children, and let older children use the printable template to assemble their own.
Supply a variety of decorative items such as stickers, tissue paper, glitter glue, sequins, etc. and let your children pick what they want to use to decorate their fish.
Crayons, markers, kid's paint, and colored pencils can all be used to color the sticks.
Watch a "View it and Do it! video on Youtube:
You can find printable patterns and directions on the Under-the-Sea Crafts Page and the Jesus Crafts Page.
Ocean-themed Decorations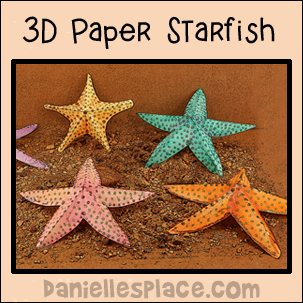 3D Paper Starfish are so easy and fun to make that you will want to make lots!
All you need is card stock, water color paint, and glitter glue and you're ready to go.
Printable patterns are available on the Under the Sea Crafts Page with a View it and Do it! Craft video that will show you how to make them.
With a tip on how to make your own water color paint and save money.
Water Bottle Fish and Bible Verse Memorization Activity for VBS

Children place tissue paper pieces, sequins, glitter and pieces of paper with words from the Bible verse in a water bottle, and then decorate the water bottle to look like a fish. When they are done making the fish play a search and find game. Tell your children to move the water bottle fish around until the find he first word of the Bible verse, keep moving the bottle until they find all the words in order to spell out the verse. The child who finds all the words in order first wins.
You can find directions to this craft on the "Go Fish" Sample Bible Lesson and watch the "View it and Do it" craft video below.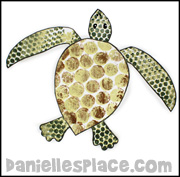 Sea Turtle Craft made with Bubble Wrap
Here's a fun, cheap and easy craft that children of all ages will enjoy. Cut bubble wrap in the shape of the fins, head and body. Have children roll different colors of paint onto the bubble wrap shapes and then press it onto the sea turtle picture.
To finish have them write the Bible verse on the paper.
For more detailed directions to this craft and a printable pattern see the Under-the-Sea Crafts Page.
Jungle Decorations and Games
Craft Suggestions from this site:
Handling Craft Projects
Hand out a brown paper bag and small paper plate for each project. The children should put their names on both before they start their craft. The paper plate keeps you from having to clean paint off the table and off your hands when the children are done with their projects. You just pick up the paper plate with their projects on them and move them to a table to dry without having to touch the wet project. When the project dries stick them in the paper bag to store. (We kept all the projects until the last day) They were then taken to the children's rooms. After our closing program the children took their parents to meet their teachers and pick up their projects. This was a good incentive to get the children and parents to come back.
How to Print or Copy these instructions
Memory Cross-Bible Verse Craft and Memorization
Here is a great way for your students to memorize Bible verses. This origami cross can be folded over and over changing shapes and showing a different part of the Bible verse each time. Your children will find that it is hard to stop using them once they start. Memory Cross offers Bible verses that go along with many of the most popular Vacation Bible School programs. They have one for the plan of salvation which would be a great witnessing tool for your VBS. They also have many other Bible verse packages you can pick from. If they don't have what you want, you can custom order them. Or you can order blank ones and have your children make their own. (See the pictures below.) Go to Memory Cross to order yours today!
Great Craft for any VBS Program!
This origami craft is fun to play with and educational at the same time. It is designed so that each time it is folded it shows another picture or part of a Bible verse and then keeps repeating over and over. The Memory Cross will help your children remember their Bible verses as they play. They can be used with any VBS program. Children of all ages will enjoy designing their own Memory Crosses. The small Memory Crosses cost 40 cents each and the 7" x 7" cost 50 cents each. Go to Memory Cross web site to order yours today!




VBS Crafts and Activity Ideas
Western Theme VBS
Egypt Theme
Safari Theme